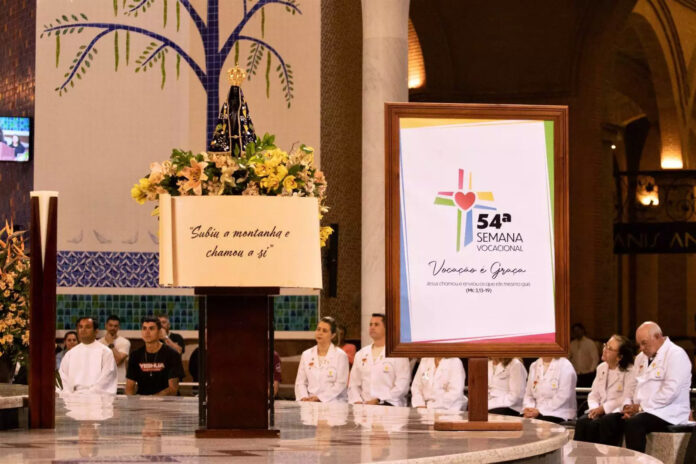 The Redemptorist Missionaries celebrated last Sunday (on the 13th), the opening of the 54th Vocational Week at the Central Altar of the National Shrine of Aparecida, Brazil. The theme of this edition is "Vocation is grace", reflecting the call of God in tune with the third vocational year of the Church in Brazil. The event continues until next Sunday, August 20th.
The Eucharistic Celebration that marked the opening of the Vocations Week was presided over by the Provincial Superior of São Paulo, Father Marlos Aurélio, C.Ss.R, and was also attended by men and women religious, priests and seminarians from the Congregation of the Most Holy Redeemer, young from Senhor Bom Jesus Parish in the city of Potim (SP) and devotees of Nossa Senhora Aparecida.
In his reflection, Father Marlos stated that this is a special time to be silent and put oneself in prayer to hear God's call. The religious also recalled the history of Vocational Week, celebrated for more than 50 years by the Redemptorist Missionaries. He said that it is in the simplicity of things that God will manifest himself.
Reflection on the first day of the 54th Vocational Week
 "God wants to speak to your heart, so maybe we need to have moments of solitude to hear the voice of God. We live in a very hectic, noisy world, there are many voices that can divert us from the voice of God. He speaks to our hearts, in the simplicity of life and events, sometimes using people who will invite us and make a vocational request. Come with us, come work for the kingdom, it's God speaking, so pay close attention."
The Provincial Superior emphasized that a vocation is not a status, it is a service. It is God entrusting us with a mission in favour of our brothers. The proclamation of the kingdom of Jesus that we want to do must always be done in a community and not in an individual way.
The Redemptorist Vocational Secretariat will continue the activities of the 54th Vocational Week this Monday (14th), with the 9 am Mass at the National Sanctuary. For this second day of the event, the proposed theme is: "Being an apostle".
(Read more on vocation week from www.a12.com )