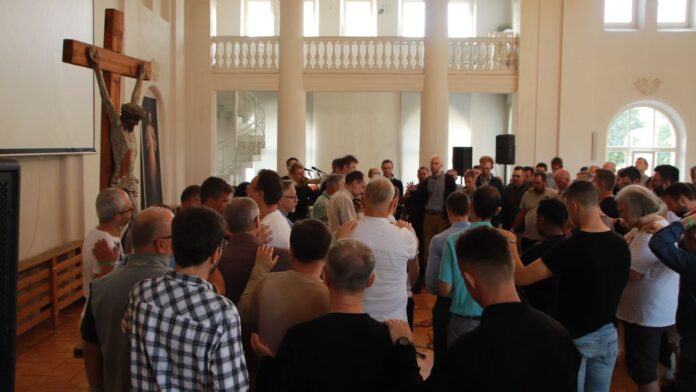 Redemptorists ministering in Lithuania organised, together with the lay fellowships of the archdiocese, the retreat for men and priests with Andrew Comiskey, a lay missionary from the USA.
On September 22nd and 23rd, Kaunas became a place where the hearts of men were being encouraged. In our time, when there is so much confusion about what it means to be a man, men heard what the gospel had to say about it.
On Friday, fifteen priests met together at the Archbishop's House in Kaunas to meditate on the essence of spiritual fatherhood. Andrew Comiskey, a founder of Desert Stream Ministries, challenged us to allow other brothers, both priests and laymen, to get to know them. Not only to open the gates of our hearts towards those we serve but also inwards so that God's people could serve us as well. Many insights were a real encouragement for priests.
At the end of the session, Andrew responded to many questions. In one very moving testimony, Andrew spoke about his own relationship with his pastor and with other priests and laymen. We were also honoured to enjoy a short visit from Archbishop Kestutis and Bishop Saulius.
On Saturday, there was a meeting for men in general, starting with Mass in the seminary church of Holy Trinity. In his homily, Fr. Rastislav Dluhy C.Ss.R spoke about the drama that always occurs when the seed, the Word of God, is planted. Does it fall onto a rock, among thorns, or onto fertile soil – a good and generous heart?
The Retreat Day began with prayer and a time of praise and worship. The worship ministry included men from the Tree of Life, the Fount of Mercy and from the worship team 'Out of Nothing'.
A hundred and ten men participated in the day from all over Lithuania and also from Poland, Denmark, Estonia, Slovakia, India and Mauritius.
As a missionary, Andrew Comiskey has been in Lithuania several times. However, this was the first time he had ministered only to men.
In his talks and his testimony, he touched upon the true identity of every man who is called to be 'a lion'. He spoke about all the wounds that men carry in their hearts and how it is often easier to see the sins, additions and lifestyles that these have led to than it is to see the wounds themselves.
There were powerful times of intercessory prayer when men could open their hearts for deeper healing.
The Retreat Day resulted in a vision of renewed manhood and an experience of the fruits of redemption that often surpasses our dreams and expectations.
Fr. Rastislav Dluhy C.Ss.R