Last year, on 22 October, Vincenzo Nicasio Renuncio Toribio and eleven companions of our Congregation of the Most Holy Redeemer, killed for hatred of the faith in 1936 in Spain, were beatified in Madrid. Their liturgical memory is celebrated together with the 6 Redemptorist martyrs of Cuenca, already beatified in 2013.
CUENCA
Fr. José Xavier Gorosterratzu Jaunarena (1877-1936)
Fr. Cyriaco Olarte Pérez de Mendiguren (1893-1936)
Fr. Miguel Goñi Áriz (1902-1936)
Fr. Julián Pozo Ruiz de Samaniego (1903-1936)
Fr. Pedro Romero Espejo (1871-1938)
Br. Victoriano – Victor Calvo Lozano (1896-1936)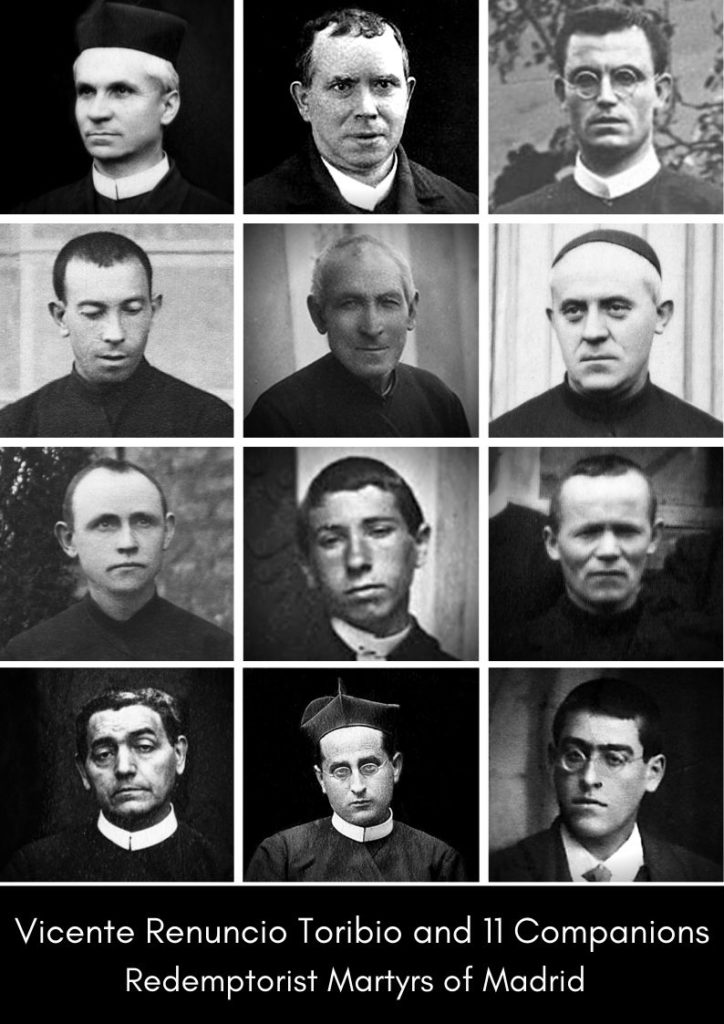 MADRID
Fr. Vicente Nicasio Renuncio Toribio (1876-1936)
Fr. Crescencio Severo Ortiz Blanco (1881-1936)
Fr. Ángel Martínez Miquélez (1907-1936)
Br. Gabriel – Bernardo Sáiz Gutiérrez (1896-1936)
Br. Nicesio Pérez del Palomar Quincoces (1859-1936)
Br. Gregorio Zugasti Fernández de Esquide (1884-1936)
Br. Aniceto Lizasoain Lizaso (1877-1936)
Fr. José María Urruchi Ortiz (1909-1936)
Br. Pascual – José Joaquín Erviti Insausti (1902-1936)
Fr. Antonio Girón González (1871-1936)
Fr. Donato Jiménez Viviano (1873-1936)
Br. Máximo – Rafael Perea Pinedo (1901-1936)
In the words of Pope Francis: "The example of these witnesses to Christ, even to the shedding of blood, urges us to be consistent and courageous; their intercession sustains those who today struggle to sow the Gospel in the world" (Angelus 23/10/2022).