"A renewal incapable of touching and changing structures, as well as the heart, does not lead to any real lasting change ... It requires...
(Kerala, India) Several people continue to be stranded in various parts of Kerala in India, that have been reeling under unprecedented rain and floods...
[td_block_social_counter custom_title="Social Media" facebook="CSsR.en" facebook_app_id="1988453118076840″ facebook_security_key="56e4b36282f8a725f0b408a42fdeec1f" facebook_access_token="1988453118076840|ccKMZPnvhtDGLA88gzKfp5l2I-w" youtube="channel/UCFqZkE0fUPeDbRhKN6Qs-eQ"]
SUMMER SERVICE- Ryan Holovlasky, an Irish Redemptorist seminarian, does some reading during the final week of his summer internship at the archdiocesan Metropolitan Tribunal...
Together with young people, let us bring the Gospel to all Dear young people, I would like to reflect with you on the mission that...
(Vatican City) - The Holy Father will celebrate Holy Mass on the occasion of the meeting of the Missionaries of Mercy on Sunday 8...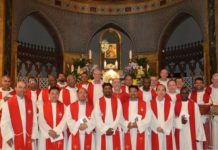 (Rome) The Redemptorist Spirituality Course for the English speaking confreres started in Rome on 11th of June 2018 as confreres from nine units gathered...
ONE BODY Dear Confreres and Friends, We continue our reflections on the Message that the last General Chapter sent to the whole Congregation. This time, we...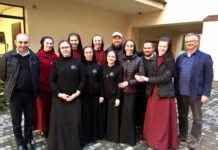 A Redemptorist spirituality course was held for the first time in Leopoli, from 24 to 29 September 2017. The course was led by Fr. Piotr...