(Sokal, Lviv) Fr. Petro Loza was consecrated as the Auxiliary Bishop of the Eparchy of Sokal-Zhovkva Diocese, in Sokal, Lviv on 12th July 2018....
(San Francisco, California ) The Redemptorists of the Denver Province are preaching the Novena for the 107th consecutive year in honor of Good St....
(Honduras) - The III Congress of the Lay Missionaries of the Province of Central America was held in San Pedro Sula, Honduras, from 2...
Together with young people, let us bring the Gospel to all Dear young people, I would like to reflect with you on the mission that...
(Vatican City) - The Holy Father will celebrate Holy Mass on the occasion of the meeting of the Missionaries of Mercy on Sunday 8...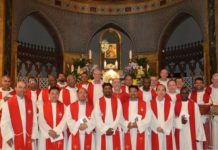 (Rome) The Redemptorist Spirituality Course for the English speaking confreres started in Rome on 11th of June 2018 as confreres from nine units gathered...
ONE BODY Dear Confreres and Friends, We continue our reflections on the Message that the last General Chapter sent to the whole Congregation. This time, we...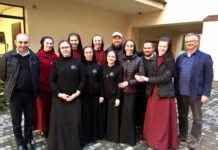 A Redemptorist spirituality course was held for the first time in Leopoli, from 24 to 29 September 2017. The course was led by Fr. Piotr...