Today was a work day. It was spent by the Chapter delegates on the proposals and postulata of Section 3 (Renewed Structures). The voting...
(Vatican/04.09.16): Pope Francis on Sunday celebrated the Rite of Canonization for Mother Teresa of Calcutta, at a Solemn Mass offered in St Peter's Square. During...
(Vatican Radio)  Pope Francis had lunch with a group of 21 Syrian refugees on Thursday at the Casa Santa Marta. During the luncheon, both adults...
(There was an error from the part of Scala News in mixing up two articles when we published this for the first time. We...
(Rome, Italy) –  The Redemptorist Spirituality course in Spanish began here in Rome on August 8, 2016, at the Redemptorist Generalate. The course is arranged...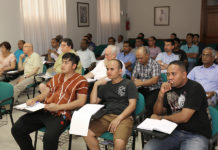 (Rome, Italy) The Redemptorist Spirituality Course for the English speaking people began in Rome on 11th July, 2016. The course is arranged at different...