Once again this year, during the week from July 17 to 23 at the Monastery of our Lady of Espino (Burgos, Spain) the 35th...
The second symposium of Redemptorist Publications was held in Trinidad, Goias (Brazil) between 17 and 20 July 2017. The meeting has sought to bring...
On 27 June the now traditional city pilgrimage (every month on the 27th) to the Redemptorist St Mary's Church in Vienna-Hernals took place. The...
Congregation of the Most Holy Redeemer WITNESSES OF THE REDEEMER: In Solidarity for Mission to a Wounded World (Congregational Theme for the sexennium 2016-2022).  Most Holy Father,...
MESSAGE OF HIS HOLINESS POPE FRANCIS FOR LENT 2017 "The Word is a gift. Other persons are a gift" Dear Brothers and Sisters, Lent is a new beginning,...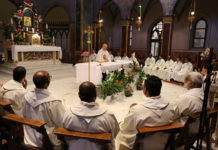 Today, June 26, about 26 Redemporists from the Conferences of Africa, Asia-Oceania, and North America gathered in Rome to begin the English-speaking course in...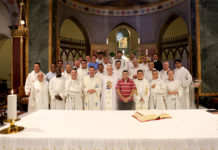 Redemptorist Spirituality Course offered by the Center for Spirituality of the Congregation for Spanish and Portuguese language speaking confreres started today, May 29, at...
Introduction In this Easter season, each and every one of us experiences the mysterious "passage" of the Risen Lord from death into life. We live...