On November 20th, at the invitation of The Greek Catholic Society of Thailand, three Redemptorist priests came to Bangkok and celebrated a Divine Liturgy...
(Granada, Spain, 11/21/2016) - This morning, Pope Francis has published the Apostolic Letter "Misericordia et misera", which concludes the Year of Mercy. Apart from...
As a Redemptorist missionary, Fr. Tobin lived and served with and among immigrants as they created a new home for themselves and their families....
(There was an error from the part of Scala News in mixing up two articles when we published this for the first time. We...
(Rome, Italy) –  The Redemptorist Spirituality course in Spanish began here in Rome on August 8, 2016, at the Redemptorist Generalate. The course is arranged...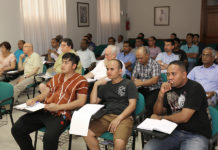 (Rome, Italy) The Redemptorist Spirituality Course for the English speaking people began in Rome on 11th July, 2016. The course is arranged at different...