(Madrid, Spain) A gathering of 15 confreres under the age of 45 from the Province of Madrid took place from the evening of 16th...
(Belo Horizonte, Brazil) - The rectors of the shrines of Our Lady of Perpetual Help of Brazil gathered in the San Jose Retreat House,...
(Wittem) From September 3d to 5th in Wittem (Province of St. Clemens) the provincial governments of Dublin, London, Vienna-Munich and St. Clemens met, together...
(Vatican) In his letter to the Bishops regarding the new revision of number 2267 of the Catechism of the Catholic Church on the death...
Together with young people, let us bring the Gospel to all Dear young people, I would like to reflect with you on the mission that...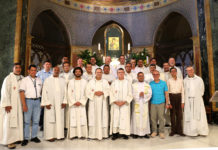 (Rome) - The Redemptorist spirituality course for the Spanish speaking confreres began in Rome on Monday 27th of August, with the participation of 23...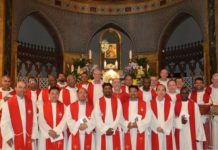 (Rome) The Redemptorist Spirituality Course for the English speaking confreres started in Rome on 11th of June 2018 as confreres from nine units gathered...
ONE BODY Dear Confreres and Friends, We continue our reflections on the Message that the last General Chapter sent to the whole Congregation. This time, we...