(Curvelo, Brazil) The 2nd edition of the book "Saint Gerald in the Basilica of Curvelo" illustrated album with bibliographical texts and life lessons was...
(Pagani, South Italy) The first tasting of Alphonsian Flavours took place in Pagani on Sunday the 5th of August. This first experience stems from...
[td_block_social_counter custom_title="Social Media" facebook="CSsR.en" facebook_app_id="1988453118076840″ facebook_security_key="56e4b36282f8a725f0b408a42fdeec1f" facebook_access_token="1988453118076840|ccKMZPnvhtDGLA88gzKfp5l2I-w" youtube="channel/UCFqZkE0fUPeDbRhKN6Qs-eQ"]
(Vatican) In his letter to the Bishops regarding the new revision of number 2267 of the Catechism of the Catholic Church on the death...
Together with young people, let us bring the Gospel to all Dear young people, I would like to reflect with you on the mission that...
(Vatican City) - The Holy Father will celebrate Holy Mass on the occasion of the meeting of the Missionaries of Mercy on Sunday 8...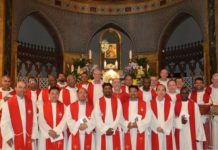 (Rome) The Redemptorist Spirituality Course for the English speaking confreres started in Rome on 11th of June 2018 as confreres from nine units gathered...
ONE BODY Dear Confreres and Friends, We continue our reflections on the Message that the last General Chapter sent to the whole Congregation. This time, we...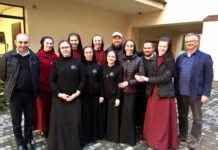 A Redemptorist spirituality course was held for the first time in Leopoli, from 24 to 29 September 2017. The course was led by Fr. Piotr...