(Rome, Italy) A meeting of the Secretariat of the Redemptoristines nuns took place in Rome from 13th to the 17th of November. Present were...
(Madrid, Spain) - "33" The Musical (33 El Musical) will be staged in Spain within a few days, which will see the Redemptorist priest...
CONGREGATIO SS. REDEMPTORIS Superior Generalis October 21, 2018 World Mission Sunday Prot. No. 0000 185/2018 WITNESSES OF THE REDEEMER: In Solidarity for Mission to a Wounded World Dear Confreres, Sisters, Youth,...
(Vatican) This week, the Synod has completed its preliminary work on the third part of the Instrumentum Laboris. We are now beginning the final...
Dear Beatitudes, Eminences, Excellencies, Dear Brothers and Sisters, and beloved Young People! Entering this hall to talk about young people, we already feel the strength of...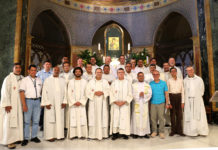 (Rome) - The Redemptorist spirituality course for the Spanish speaking confreres began in Rome on Monday 27th of August, with the participation of 23...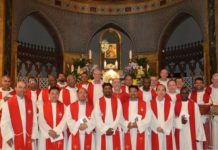 (Rome) The Redemptorist Spirituality Course for the English speaking confreres started in Rome on 11th of June 2018 as confreres from nine units gathered...
ONE BODY Dear Confreres and Friends, We continue our reflections on the Message that the last General Chapter sent to the whole Congregation. This time, we...