More than 4,000 people a night have been sleeping rough on England's streets, a 16% increase on last year. February 8, 2017 - A reflection written...
(Granada, Spain, 11/21/2016) - This morning, Pope Francis has published the Apostolic Letter "Misericordia et misera", which concludes the Year of Mercy. Apart from...
As a Redemptorist missionary, Fr. Tobin lived and served with and among immigrants as they created a new home for themselves and their families....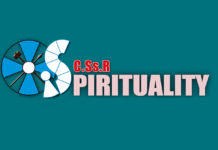 Introduction The XXV General Chapter took place in Pattaya (Thailand) and concluded at the end of November 2016. At the beginning of its massage to...
(There was an error from the part of Scala News in mixing up two articles when we published this for the first time. We...
(Rome, Italy) –  The Redemptorist Spirituality course in Spanish began here in Rome on August 8, 2016, at the Redemptorist Generalate. The course is arranged...