Fr. Jim McManus' new book, Sent to Proclaim the Gospel , seeks to encourage parishes and communities to assume their responsibility for the proclamation...
Intervention on Paragraph 199 of the Instrumentum Laboris – Youth Protagonists Michael Brehl, C.Ss.R., - Superior General of the Congregation of the Most Holy...
(Torun, Poland) - 'The mission of the Redemptorist Congregation in Poland and in Europe,' 'personal and community conversion and the adaptation of structures to...
Dear Beatitudes, Eminences, Excellencies, Dear Brothers and Sisters, and beloved Young People! Entering this hall to talk about young people, we already feel the strength of...
(Rome) The Press Office of the Holy See published the list of the Participants in the XV Ordinary General Assembly of the Synod of...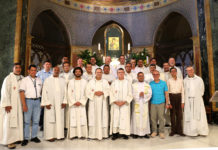 (Rome) - The Redemptorist spirituality course for the Spanish speaking confreres began in Rome on Monday 27th of August, with the participation of 23...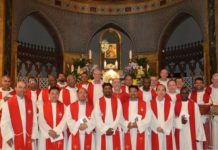 (Rome) The Redemptorist Spirituality Course for the English speaking confreres started in Rome on 11th of June 2018 as confreres from nine units gathered...
ONE BODY Dear Confreres and Friends, We continue our reflections on the Message that the last General Chapter sent to the whole Congregation. This time, we...