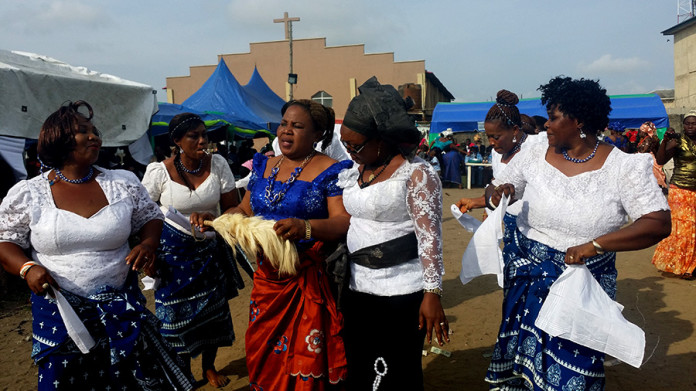 Our sweet Mother of Perpetual Help has indeed won the affection of innumerable devotees in Nigeria, thanks to Fr. Celestine Okah, C.Ss.R, director of the National Shrine of Our Mother of Perpetual Help, and his team, Fr. Jude Nwachukwu, C.Ss.R, Fr. Chris Uwadiale, C.Ss.R, Fr. Hyacinth Agomuoh, C.Ss.R, Fr. Henrymary Mbanefo, C.Ss.R, Fr. Kingsley Anoghala and the student on Pastoral experience Stephen Okechukwu, C.Ss.R—all dedicated men engaged in the shrine apostolate.
Pilgrims on daily basis troop to this quiet sanctuary located on a serene and expanse piece of land perching on the gentle rolling hill of Nike. From far and near they come to share in the numerous Masses, Stations, Confessions, Counselling, Adorations, and Prayers ongoing at the shrine each day beginning from the early morning till late evening. Some also spend the night in prayers.
The shrine providing a spiritual base, Fr. Celestine Okah with his band of Redemptorist missionaries, is taking the Icon of Our Mother of Perpetual Help on pilgrimage to several parishes across several dioceses within Nigeria. He reckoned that since there were some that would never have the opportunity to visit the shrine for pilgrimage, Redemptorists could as well take Our Mother to their parishes to celebrate pilgrimage with them. What a vision!
Popularity of the Icon pilgrimage is an eloquent testimony of the relevance of Mary in our everyday struggles (do whatever he tells you. Day by day her fame as the Lady to be trusted continues to rise as more and more dioceses and parishes are scheduling dates for the Redemptorists to bring this unique mother on pilgrimage to them. Demand for the Icon Pilgrimage is high and with each outing recording an average of 2000 pilgrims, confreres working in other apostolates have often signed up to help at the pilgrimages.
Make no mistake the good Lady of Perpetual Help is alive and active in the Nigerian church. On regular bases the army of her devotees are increasing with such fervent belief in the power of the miraculous lady of perpetual help on whose account many mothers have given birth, serious illness taken care of and numerous difficult cases resolved.
In the month of August, Saturday 15th feast of Assumption, Most Rev. Dr. Callistus Onaga, bishop of Enugu, where the national shrine is sited, visited the centre to celebrate the annual Diocesan Pilgrimage/Rosary Carnival with more than 10,000 pilgrims. Fr. Jude Nwachukwu, C.Ss.R has this to say about this year's turn out: "This year's turn out seems to be the largest recorded probably due to the awareness we created for the program through radio, mobile phone messaging, posters and handbills. It is estimated that over 10,000 people gathered for the program."