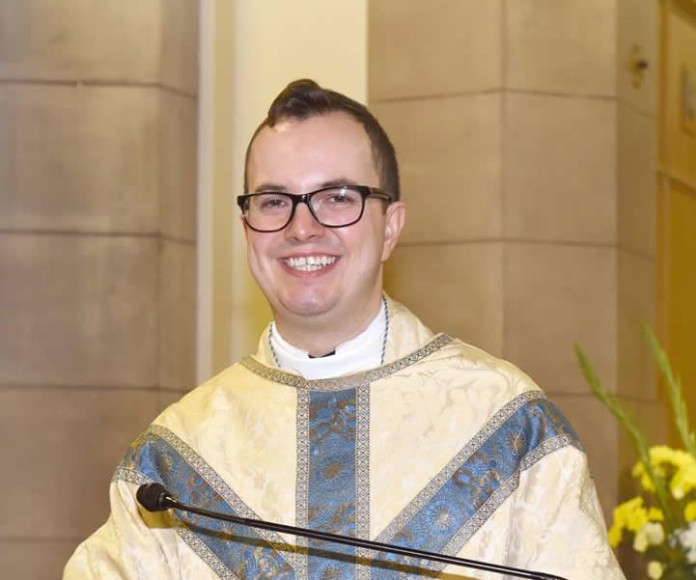 Congratulations to the Redemptorists newest priest!
Fr Peter Morris CSsR from the London Province was ordained last night in St Mary's Cathedral in Aberdeen by
Bishop Ralph Heskett CSsR Bishop of Hallam, Bishop Hugh Gilbert, Bishop Emeritus Peter Moran and Provincial Fr Ronald McAinsh CSsR.
We assure Fr Peter of our prayers and good wishes as he begins his priestly ministry.
Ad Multos Annos.
St Alphonsus de Liguori pray for him.
Brother Peter Morris CSsR make his Final Profession at Satuday 13 June 2015.
Bishop Ralph Heskett CSsR ordain Br Peter Morris CSsR to the Diaconate on Sunday 14 June 2015.
OUR HISTORY IN THIS PART OF WORLD…
In June of 1843 three Redemptorists, two priests and one brother, arrived in Cornwall from Belgium to found a mission, of the three only one of them could speak English. Despite obvious difficulties the Redemptorists proved themselves to be excellent preachers and it mattered little should they be preaching to Catholics or non-Catholics.
Four years later the Belgian Provincial, Fr de Held came out of office and was appointed to England. Traveling through London he was persuaded to look at property in South London, which had once belonged to Lord Teighnmouth. And so began a long and successful history between London and the Redemptorists.
With the Church built, the Redemptorists set to work, attracting people from far and wide. There were confessions, Masses, sermons and instructions, not to mention the Confraternity of the Immaculate Heart of Mary, the St Vincent de Paul Society, a Catholic lending library, and all sorts of extra liturgical devotions such as Benediction, Litany and Rosary, the Way of Cross, devotions to the Infant Jesus, for a Happy Death, the Quarant' Ore and all kinds of devotional things in honour of Our Lady.
While this work went on in London, other work was underway in spreading the Good News of the Lord. Two new houses were also opened, in Limerick and in Liverpool and much of the work the Redemptorists were founded for was carried out; mission preaching.
It was then decidedthat this new missionary development needed more independence from Belgium, and so the General Chapter declared that a new Anglo-Dutch Vice-Province be established. The new province comprised of the houses on Amsterdam, Wittem, Bois-le-Duc, Clapham, Bishop Eton and Limerick. Back in the early days we were resident in three countries, England, Ireland and Holland.
Today we are geographically different and the London Province numbers 60 members in nine communities in England and Scotland. In our mission region of Zimbabwe we have 3 communities and a growing number of Redemptorist students. The international headquarters of the Redemptorists is in Rome, and the principal house of this province is in Perth (Scotland), which is the Provincial Residence.
The whole life of the Redemptorist is at the service of the Church; our special mission is the proclamation of the word of God. In the London Province our missionary work includes parish and school missions, renewal courses, retreats, publications, and staffing five parishes. Alphonsus' missionary work included theological and spiritual writing: today that work is continued by Redemptorist Publications, which is known worldwide. Also, both at Hawkstone Hall and at Kinnoull Perth, Scotland, we run renewal courses and retreats, and offer the facilities of our pastoral centres to other groups.