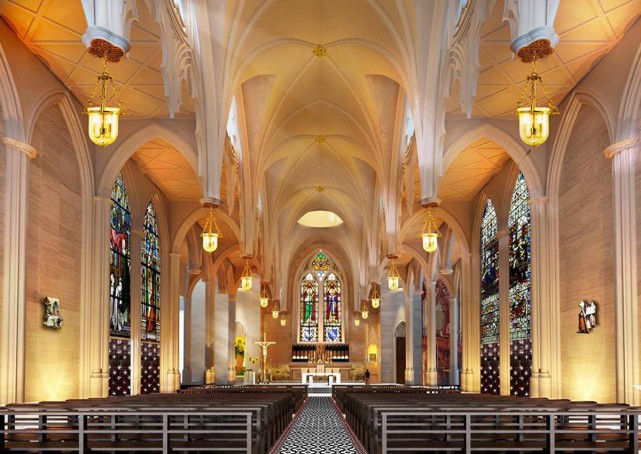 SINGAPORE – A magnificent dome high above the altar. Towering pillars and high arches. Beautiful stained glass windows. It looks like a Gothic cathedral somewhere in Europe, but this will be the new look of a Catholic church undergoing a major expansion now.
An illustration revealing the impressive design of the sanctuary of the Church of Saint Alphonsus, or more popularly known as the Novena Church, after its facelift has drawn oohs and aahs from church-goers and netizens after it was posted on Facebook on Tuesday.
The chorus of praises rang out repeatedly as they gave the transformation a resounding approval – "Beautiful", "Wow", "Fantastic", "Awesome" and "Nice".
Apparently put up by a contractor involved in the makeover of the six-decade-old church on a Facebook page created by its followers, the photo shows the interior architecture paying homage to a Gothic style with pointed arches, looming ceilings and colourful stained glass panels.
"Wow, so beautiful. just like in Europe," declared one visitor to the post, which has received over 1,860 likes and more than 460 shares by late afternoon today.
"Finally, a Catholic church that looks like a Catholic church," enthused one Terence Humphries.
Some seemed incredulous, having seen or been used to the simpler, functional look of the old church, which was built in 1950 with porticoes added later in that decade.
In casual conversation among its followers and regular visitors, it is fondly known as "Novena", after the church's 'Novena' devotion sessions kept packing in thousands over the years.
In fact, many of them took a double take when the church unveiled the main illustration of its new look a few years ago. The much bigger new building designed with classical and Gothic influences is adjoined to the old building, which has been gazetted as a heritage site under conservation laws.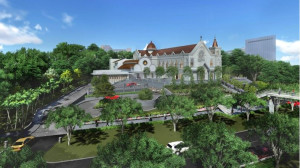 One Facebook visitor, Boey Swee Siang, could not believe his eyes when he saw the picture of its upcoming interior transformation. He exclaimed: "Incredible. Is this really what the church will look like? After decades of church architecture churning out community centre wannabes, This is really fantastic."
A Matthew Reynard, who proclaimed "Wow!", suggested that the new Church of Transfiguration, which is being built in Punggol, could have taken a "a few lessons" from Novena.
Some people have found the design of the Punggol church, too modern and simple-looking even though it will incorporate Catholic elements and a stone from Israel's historical Mount Tabor, the site of the transfiguration scene mentioned in the Bible.
The church, which is still appealing for funds, is expected to be ready in March next year, about the same period as Novena.
The latter, which was closed for the redevelopment in October 2014, is scheduled to open around the first quarter of 2017, the church rector told AsiaOne. It achieved its fund-raising target of $55.4 million at the end of last year, according to the church's website.
It moved its Sunday masses to St. Joseph's Institution Junior in Essex Road while weekday masses and Saturday's Novena devotions are conducted at the Church of Risen Christ in Toa Payoh Central.
The new church, which will sit on much bigger premises, will offer air-conditioning comfort to a larger congregation. The tiered-seating, which can accommodate 1,500 people, up from the previous capacity for 700 to 800, will give worshippers a better view of the altar.
Hovering above the altar area will be a grand dome with skylights. The sanctuary will be cast aglow by big classical lamps hanging from suspended pillars from an awe-inspiring ceiling.
Other new features include a new shrine named Our Mother of Perpetual Help, which is being converted from the old sanctuary, a grotto, a new bell tower, a pastoral centre with a multi-purpose hall, a 220-seat canteen, and a basement carpark.
One netizen, Chia Raymond, believes the new church will attract more visitors from neighbouring countries. "Looks like a Basilica church… hope this will be a pilgrimage site in our region."
One Novena-goer, Ada Tay, lamented the passing of the old: "Beautiful it will be but nothing like the Novena Church of old."
However, many faithfuls could not contain their excitement with its new look and opening next year.
from
AsiaOne:
http://news.asiaone.com/news/singapore/new-novena-church-surprises-many-grand-look