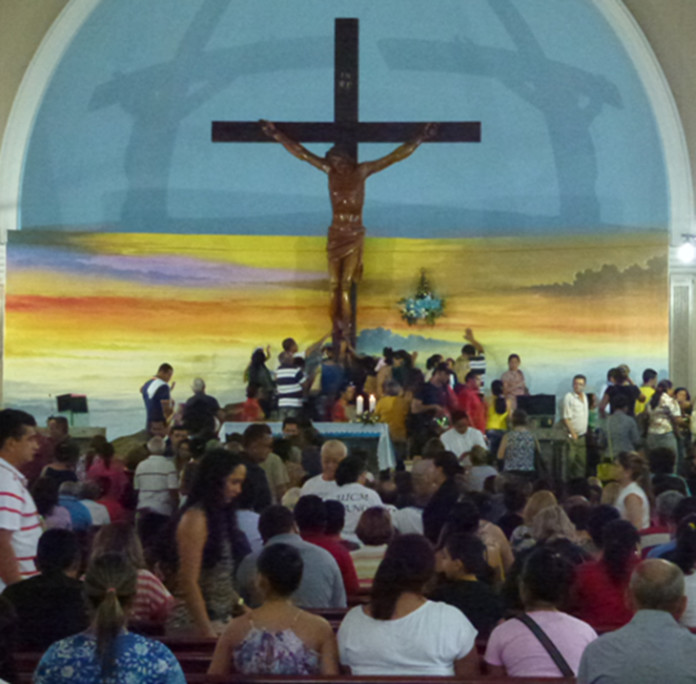 by Tom (Miguel) McIntosh, C.Ss.R.
Redemptorist missionaries arrived in Manaus, Amazonas on July 27, 1943 and immediately began sowing the seeds of the Gospel. True to their mission to make Mary known as Our Mother of Perpetual Help, the early pioneers initiated the devotion in her honor mere months later. They invited a few people to join them, gathering in the visiting room of their residence on January 30, 1944. All liturgical celebrations and devotions were held in those humble surroundings, which served as their very first parish church. At that time, Masses were celebrated in the morning, leaving the evening hours for other devotions.
The December 4, 1944 entry in the Redemptorist house annals reads: "Monday evening the chapel was again crowded for the Our Mother of Perpetual Help novena. Fr. Norm Muckerman presided. Fr. Andrew Joerger gave the blessing." By this time a small chapel had been built, and the novena was officially inaugurated a few days later, on December 12, 1944. The crowds grew progressively as the devotion became known in the area.
Today, novenas to Our Mother of Perpetual Help start at 5:00 in the morning and end at 8:00 in the evening, making for a total of 16 novenas every Tuesday at Our Lady of Aparecida Church. Three Masses also end with the novena. After the devotional prayers, there is a moment for reflection on the Gospels.
It has been estimated that between 10,000 and 13,000 people attend a novena every week, and three are broadcast on local radio stations. During the novenas, Redemptorists and priests from other parishes are available for confessions. Many lay people help out animating and leading the prayers, and others – a welcoming committee, social worker, nurses, counselors and psychologists – attend to the needs of the people.
Because of the popularity of the novena and the availability of priests to hear confessions, Our Lady of Aparecida Church is a reference point for the nearly 2 million people currently living in Manaus. Many other parishes, including four other Redemptorist parishes, also promote devotion to Our Mother of Perpetual Help. The Redemptorists of the Vice Province of Manaus are continuing the tradition of making Our Mother of Perpetual Help known and loved.
The faithful come forward for a blessing after a novena at Our Lady of Aparecida Church in Manaus, Brazil; the schedule of Perpetual Help Novenas posted at Our Lady of Aparecida Church; and the overflow attendance at a typical Perpetual Help Novena.
An article about devotion in Brazil published in Redemptorist Mission, 1959.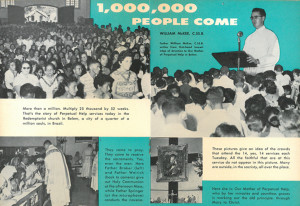 The first Redemptorist missionaries sent to the Amazon (left to right, seated) Fr. Joseph Buhler, Fr. Andrew Joerger and Fr. John McCormick, and (standing) Fr. Joseph Elworthy, Br. (Clement) Cornelius Ryan and Fr. James Martin.