blessing of Fr. General
(Rome, Italy. 28/04/16) The new multimedia studio of the Office of Communications of the Redemptorists was inaugurated on Thursday, 28th April 2016 at 12.30 pm by the Superior General Rev. Fr. Michael Brehl, CSsR. Most of the members of the General Curia and the Community of St. Alphonsus were present to grace the occasion.
With the blessing of Fr. General the Office of Communications has taken a great step forward in seeking to improve the internal and external communication of the Congregation. Fr. Biju Madathikunnel (Director), along with Fr. Sijo Thaliyath and Mr. Carlos Espinoza are working together to help the Congregation to promote its mission both within the Congregation and without, using modern methods of communication. The purpose of the new studio is produce video messages, interviews, talks and documentaries for the Congregation to further the mission of the Redemptorists.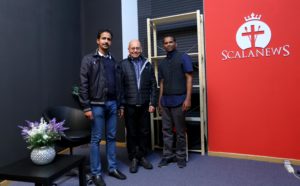 A special mention of thanks must be made to the Province of Sao Paolo in Brazil for their generous support in helping to bring the studio project to fruition. Once again the Redemptorists are ready to respond to the responsibility of creating space for communication and collaboration to preach the Good News to the poor in this year of Mercy and the Jubilee of Mother of Perpetual Help.
Fr. Biju Madathikunnel, CSsR
Director of Communications