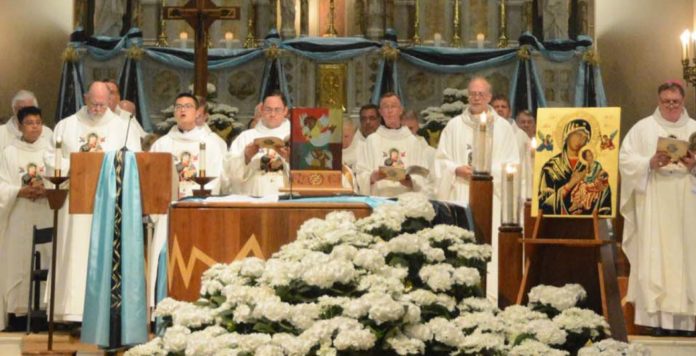 DENVER, Sept. 28, 2016 – The Redemptorists—Denver Province has launched a new mobile app to Mary in celebration of the 150th Jubilee of the Icon of Our Mother of Perpetual Help. The app, "Mary Pray For Us," was created to help people move close to Jesus by making Mary their daily companion. It is an easy-to-use, 7 day Retreat that features the Redemptorists' signature approach to affective prayer from the heart. It features brief instructions, reflections, prayers, and beautiful artwork of Our Mother of Perpetual Help.
Mary Pray For Us also offers audio versions of the daily reflections, daily reminders during the Retreat period, and YouTube videos.
Mary Pray for Us was one of only a handful of Catholic apps featured on the August 15 podcast of Radio Maria's Carmelite Spirituality Conversations. It was also called "incredibly edifying" and "tremendous for helping people to pray" by Catholic Apptitude, the foremost online source for reviews and recommendations of Catholic mobile apps.
Inspirations for the app include St. Alphonsus' writings on the practice of prayer; numerous Redemptorists' missions to Our Mother of Perpetual Help; the preachings of Bro. Dan Korn, C.Ss.R.; and the writings of Fr. Dennis Billy, C.Ss.R.
Bro. Korn noted that the app shows users "how Mary is our friend, how Mary is our companion on the journey to Christ, and how Mary teaches us to pray."
The app is available for both Androids and Apple devices. It is an important addition to the prayer lives of those wishing to deepen their devotion to Mary.
Online links where Mary Pray for Us can be downloaded:
Bit.ly/OMPHandroid
Bit.ly/OMPHiphone
The Redemptorists are a religious congregation of Catholic priests and brothers founded in 1732 by St. Alphonsus Liguori in Naples, Italy. Approximately 5,000 Redemptorists are currently working for the poor and most abandoned in nearly every part of the world. More than 400 Redemptorist priests, brothers and students are members of the Denver Province, and serve throughout the United States, as well as in Brazil and Nigeria.
(from /Christian Newswire/ )