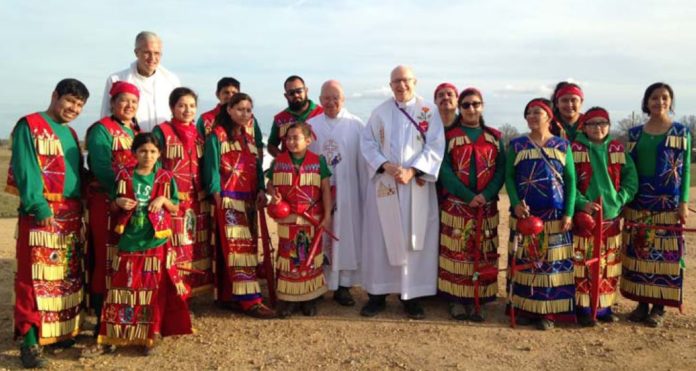 Redemptorists of the Greenwood community (left to right) Fr. Scott Katzenberger, Fr. Mike McAndrew and Fr. John Gouger, with the dancers who presented prayers in dance at each stop on the Pilgrimage for Life
The Redemptorist community in Greenwood teamed up with the Diocese of Jackson's Hispanic Youth Ministry for a Pilgrimage for Life on January 14.


We hoped to educate the youth about the manda tradition – walking as a prayer for those whom we love. The pilgrimage began at the Shrine of Our Lady of the Delta, and continued for three miles on the Locus Benedictus property. We stopped five times to pray and meditate on the "seamless garment" of our ethic for life. After we prayed one decade of the rosary, matachines (dancers) presented our prayers in dance at each stop.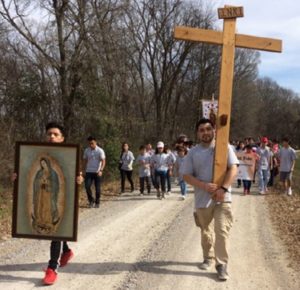 Meditations included reflections on the dignity of life at conception, migration and racial justice, care for the environment, care for those on the periphery and the elderly, and in celebration of youth.
Many volunteers from our Hispanic Ministry in Greenwood generously contributed lunch for the pilgrims, and afterward we celebrated Mass at the shrine. A highlight of the Mass was a moment when we all prayed for the family of Rigoberto Salas, and a merciful hearing of his deportation proceedings.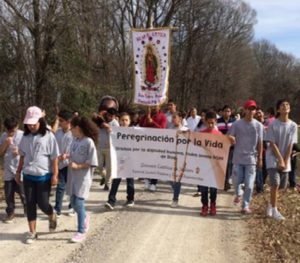 by Mike McAndrew, C.Ss.R.
(DenverLink 27.01.2017)