BROOKLYN, N.Y. – Cardinal Joseph Tobin of Newark said he led a rally in support of Mexican immigrant Catalino Guerrero, who was threatened with possible deportation in March, because as a Christian he believes that "God has shared his solidarity with every human situation" through the example of Jesus.
Standing with those threatened with deportation "puts a face on people who are frequently dehumanized," he told hundreds of Catholic journalists and media professionals gathered for the annual World Communications Day sponsored by the Diocese of Brooklyn's De Sales Media Group May 17.
Tobin, a member of the Redemptorist community who was named Newark cardinal by Pope Francis last November, criticized media portrayals of immigrants that exploit "fear-based news" which highlights violent criminals.
"Fear cannot have the final word," he said.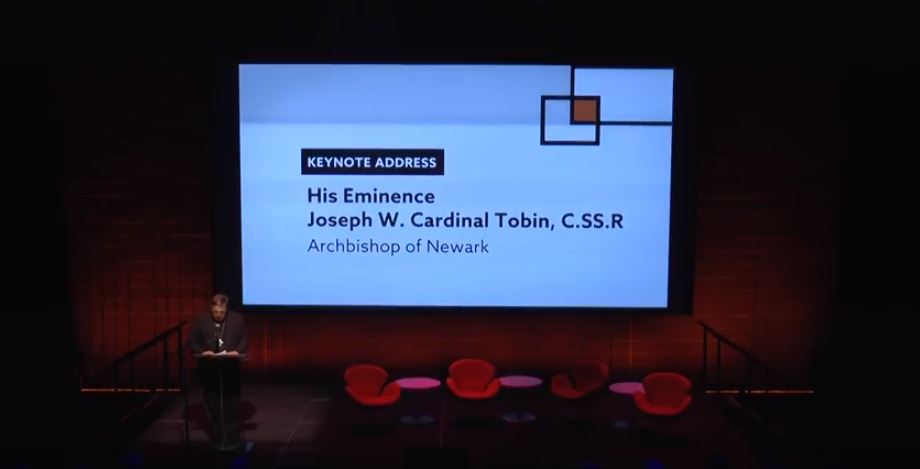 Tobin criticized President Donald Trump and the Republicans in Congress, who he said have the power to enact an immigration reform that would provide a path for citizenship for people like Guerrero, a 59-year-old father of four and grandfather of four. He is a resident of Union City, New Jersey, and has diabetes.
"You have to believe they are inflicting cruelty on innocent people," he said. "Congress and the president could pass comprehensive immigration reform tomorrow if they wanted to. They could bring 12 million people out of the shadows if they wanted to," he said.
He acknowledged that his support for Guerrero, who entered the United States from Mexico in 1991, was made more powerful by his position as Newark's new cardinal. But he emphasized that it was a stance he took as a parish priest in Chicago and his native Detroit. Tobin challenged other church leaders and politicians to do the same. Guerrero, who has never been charged with a criminal offense other than violating immigration laws, was granted a year's reprieve from deportation.
Standing in public support of Guerrero, said Tobin, was "a symbol that communicates hope, that the church does not live in an ivory tower, that our faith has not been privatized."
Church leaders who stand with immigrants are following the example of Francis, he said, noting that the pope's first official trip as pope was to the isolated Italian island of Lampedusa, a temporary home for refugees. The waters near the island are where thousands of immigrants from Africa have died in efforts to reach Europe. The island has become a symbol of the world refugee crisis which Francis has frequently addressed.
By Peter Feuerherd, May. 18, 2017
[Peter Feuerherd is a correspondent for NCR's Field Hospital series on parish life and is a professor of journalism at St. John's University, New York.]
(from www.ncronline.org)
His Eminence Joseph W. Cardinal Tobin Gives the Keynote Address at World Communications Day, look the complete video: