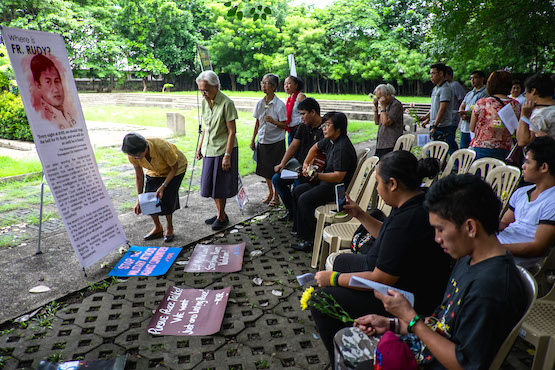 An ecumenical church group in Manila pays tribute to Filipino Redemptorist Father Rosaleo Romano on July 11, the 32nd anniversary of his disappearance. (Photo by Mark Saludes)
Redemptorist Father Rosaleo 'Rudy' Romano disappeared on July 11, 1985 during Marcos' rule
An ecumenical church group in Manila paid tribute to Filipino Redemptorist Father Rosaleo "Rudy" Romano on July 11, the 32nd anniversary of his disappearance.
"He was a shepherd who smelled like his flock as he was very much identified with the poor," said Nardy Sabino, secretary-general of the Promotion of Church People's Response.
On July 11, 1985, armed men believed to be members of the military abducted Father Romano, a prominent leader of the anti-dictatorship movement in the 1980s in the central Philippines.
The priest, who was only 44 years old at the time of his disappearance, was chairman of the Visayas Ecumenical Movement for Justice and Peace that campaigned against rights abuses by the military.
In 1986, after the ouster of dictator Ferdinand Marcos, the city government of Cebu honored Father Romano and declared him "a son of the province … for his human rights and pro-poor advocacy."
Father Rolando de Leon of Bulacan Diocese said the "life and struggle" of Father Romano "must be echoed to younger generations in the church."
"Let him be an inspiration to us and serve as a motivation to continue our work for social justice and freedom," said the priest.
He said the life of Father Romano should be a "reminder to all of us that the church has the obligation to fight for the poor especially in times of darkness and injustice."
"It is important that we recognize the value of our freedom through our martyrs like Father Romano," said Sister Alice Lansang of the Immaculate Heart of Mary congregation.
(from UcaNews, July 13, 2017)