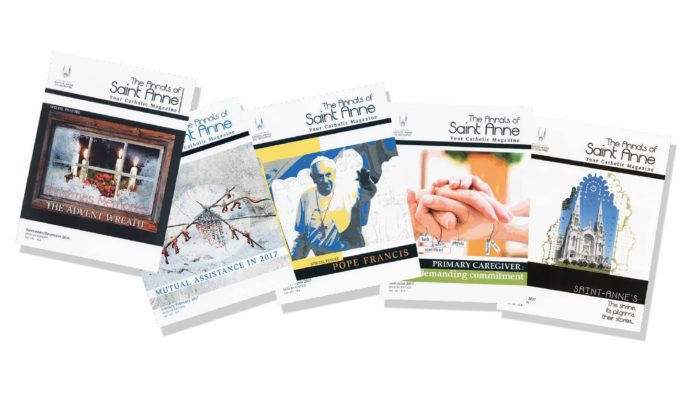 The Congregation of the Most Holy Redeemer (C.SS.R.), a community of Roman Catholic priests and lay brothers, was founded by Saint Alfonso Maria de Liguori at Scala, Italy, a small town near Naples, in 1732. The religious community, who preached the Gospel to the poor in the hill country outside of Naples, spread to Northern Europe then to North America. In 1832, the first Redemptorists travelled to Cincinnati from Vienna and worked among the German immigrants. Many members of the Congregation from the United States eventually settled in Canada, making their first foundation in 1874 at St.Patrick's Church in Quebec City.
In 1897, the Redemptorists, the guardians of the national shrine of Sainte-Anne-de-Beaupré, began to publish both versions of the Saint Ann magazines, Les Annales de Sainte Anne and The Annals of Saint Ann. In 1970, Father Bernard Mercier and his editorial team started to add more content and variety, making the French edition a popular Catholic magazine, with articles helping the readers to grow and sustain their faith. Throughout the years, the magazines have adjusted to the printing and technological evolution and to the aging of its readership, while conserving its goal of remaining an important tool to evangelize and to promote the devotion to the grandmother of
Jesus.
The first time I heard of the Saint Ann magazines was when my brother got married in 1991 and he received a one-year free subscription
of the French version as a wedding gift. When I read an issue, I did not only think it was a great magazine, but it would be an appropriate market for my articles. To my surprise, after I sent my first submission, Père Claude Lavergne quickly answered by stating that although the text was well-written, it was not appropriate for the magazine, but I was welcomed to write portraits. Consequently, for several years, I wrote sporadic portraits and other religious articles.
In 2006, Père Lavergne inquired if I was interested in writing six portraits yearly. I hesitated before I accepted the assignment because I never felt comfortable meeting new people. However, since the personalities came from every corner of the province, I found various ways to reach them and get the material. Then, from 2010 to the beginning of 2016, I had my monthly column in the French magazine, writing ten portraits per year, and during that period, I was also offered the Spiritual Maturity page. I realized the magazine was widely read when during my employment in a parish in Montreal, I wrote a portrait of a priest who had done missionary work in Africa for several decades. He confided that an impressive number of persons greeted him with a copy of the printed article.
Père Claude Lavergne, who passed away in 2012, will always hold a special place in my heart. He was kind, polite and was one of the first persons to recognize my potential as a writer. Secretary of the editorial team since 1984, he sometimes assigned projects or offered suggestions, but never interfered with my work.Long life to both Saint Ann magazines, the oldest religious publications in Québec. They have helped me to mature my faith and to grow as a writer.
Sylvie Malaborsa
(The Annals of St. Anne)