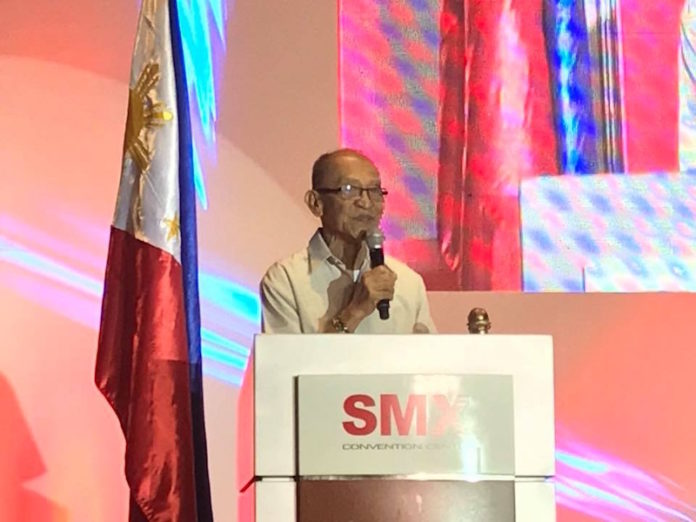 Redemptorist Brother Carlito "Karl" Gaspar, CSsR, confrered the Lifetime Achievement Award by the Asian Catholic Communicators, Inc. on 13 Sept. 2017 at the SMX in Pasay City. Photo from Gaspar's Facebook wall, shared by Euginius Canete
(DAVAO CITY,  16 Sept) —  The most prolific Mindanawon book author — at least 20 since 1985  — is this year's recipient of a Lifetime Achievement Award from the Asian Catholic Communicators, Inc. (ACCI),  the first of three awards he will be receiving from different Catholic institutions in a month.
Redemptorist Brother Carlito "Karl" Gaspar, church worker, anthropologist, artist and professor was conferred the award by Bishop Broderick S. Pabillo, Auxiliary Bishop of the Archdiocese of Manila and officers of ACCI at the SMX in Pasay City on Sept. 13 during the 38th Manila International Book Fair.  The fair ends on Sept. 17.
ACCI is a network of Christian media organizations in Asia "committed in promoting the Reign of God through communications media in line with the teaching of the Catholic Church."
The 72-year old Gaspar is currently Academic Dean of the St. Alphonsus Theological and Mission Institute (SATMI) in Davao City and a professor of Anthropology at the Ateneo de Davao University.
The award was given to Gaspar not just for the books and essays he has written to "popularize the concerns of the Church in the world today as a way of communicating the Gospel to the public," but also for his commitment in terms of ministry and praxis manifesting his witness."
Gaspar is the first ACCI Lifetime Achievement awardee who is not a Jesuit.
Previous awardees were Fr. Catalino Arevalo, SJ, Fr. Joaquin Bernas, SJ and Bishop Francisco Claver SJ.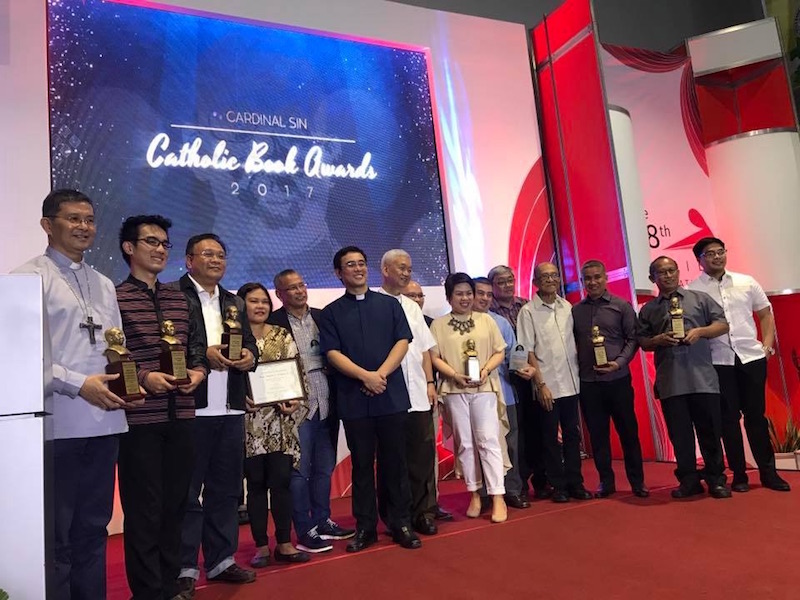 Winners of the 2017 Cardinal Sin Book Awards in the fields of Ministry, Theology, Spirituality, Homilies, Youth, Familiy Life and Inspirational Writing , were also announced.
Gaspar is scheduled to receive two more awards — from the Ateneo de Manila University on September 26 and the DAKATEO or the Philippine Catholic Theological Association on October 7.
The Ateneo de Manila University is conferring on Gaspar the Parangal Ligkod Sambayanan, describing him as a "champion of the Indigenous People's cultural and resource rights" and one who "promotes a deeper understanding of their culture among non-Lumad population through teaching, and his academic and popular writing.
"Also a staunch advocate of peace, Bro. Karl has engaged in extensive peace-building efforts through inter-faith dialogues and ecumenical involvements in Mindanao," it the ADMU said.
DAKATEO is recognizing Gaspar for his contribution to Filipino Theology.
On March 30 this year, Gaspar was conferred the Doctor in Humanities, honoris causa, by the Xavier University – Ateneo de Cagayan in recognition of his "extensive and excellent work as an inspiring theologian, interfaith scholar, multi-awarded writer, and Mindanaoan artist in pursuit of justice, peace, and the integrity of creation; and for his outstanding contributions to development work and social sciences in the country."
In 2008, Gaspar was conferred the Archbishop Clovis Thibault Award by the Ateneo de Dvao University, "in recognition of his untiring advocacy and achievement for over three decades for justice, peace and development, especially on behalf of the Indigenous Peoples' communities and other marginalized sectors in Mindanao.
He also writes two columns for MindaNews: "A Sojourner's Views" and "Panaw-Lantaw."
Gaspar's books cover a wide range of issues, as can be gleaned from the titles: "How long? Prison reflections from the Philippines (1985);  Pumipiglas: Teyolohiya ng Bayan (1987), Manual for Pastoral Workers (1988); A People's Option: To Struggle for Creation" (1990); "Readings on contemporary Mindanao church realities" (1994); "Behind the Growing Trees: An Evaluation of the San Fernando Integrated Forestation Project" (1994); The Mindanao Lumad Social Movement (1997); Lumad's Struggles in the Face of Globalization (2000); "Mapagpakamalinawon:" A Reader for the Mindanawon Peace Advocate" (2002); "To be Poor and Obscure: The Spiritual Sojourn of a Mindanawon" (2004); Mystic Wanders in the Land of Perpetual Departures (2005); "The Masses Are The Messiah: Contemplating the Filipino Soul" (2010); "Manobo Dreams in Arakan: A People's Struggle to Keep Their Homeland" (2011); "Desperately Seeking God's Saving Action: Yolanda Survivors' Hope Beyond Heartbreaking Lamentations" (2014);  "Davao in the Pre-conquest Era and the Age of Colonization" (2015); "A Hundred Years of Gratitude" (2017); and "Panagkutay: Anthropology & Theology Interfacing in Mindanao Uplands [The Lumad Homeland]" (2017).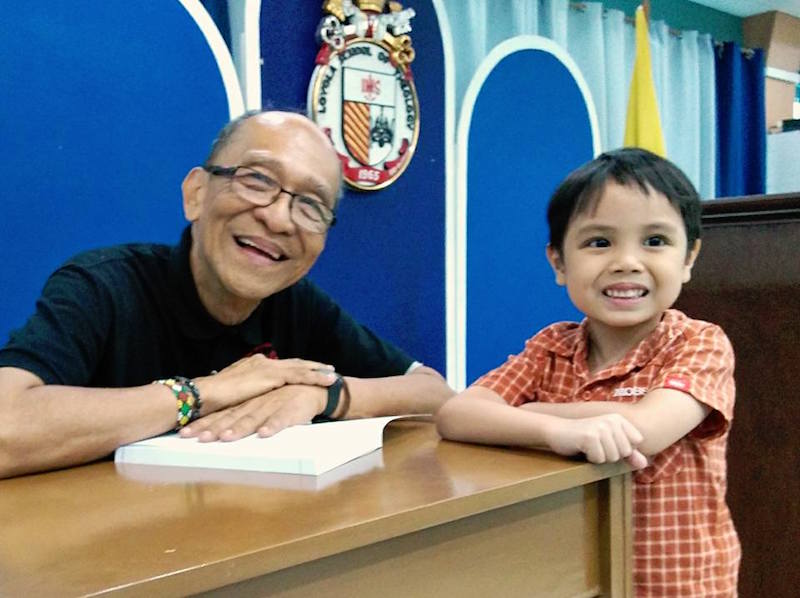 "Manobo Dreams" won the National Book Awards in the social science category in 2012 while  "Desperately" won the 2015 Cardinal Sin Catholic Book Award in the Spirituality and Ministry categories.
Writing as Melchor M. Morante, Gaspar has three novels in Cebuano: "Ugma Puhon, Junjun" (1994), Tuburan sa Handurawan (1995); and "Si Menda ug ang Bagani'ng gitahapan nga maong si Mangulayon" (2015). Two novels written in English are still unpublished: Performing Defiantly (2005) and She Sang "You Are my Sunshine" (2016).
Gaspar also edited and contributed to the following books: You are Not Forgotten: Symbols During Martial Law (1988), Pakiglambigit: Reflections of RIMT (1989) and Our Mother of Perpetual Help Icon and the Filipinos: Multidisciplinary Perspectives to a Perpetual Help Spirituality (2017).
Gaspar is also one of the authors of "Turning Rage into Courage: Mindanao under Martial Law" (2002); "O Susana! The Untold Stories of Martial Law in Davao" (2016) and Being Sent: Redemptorist Missions in Mindanao, 1975-2005 (2006).
Gaspar was a political detainee under martial law which then President Ferdinand Marcos declared on September 21, 1972. He was detained for 22 months.
The son of a bus driver, Gaspar was Valedictorian of  High School Class 1963 at the Holy Cross College of Digos (now Cor Jesu College), whose batchmates include another son of a bus driver,  Jesus Dureza, first honorable mention, and the son of the Governor of the undivided Davao, Rodrigo Duterte.
Dureza and Duterte became lawyers, while Gaspar took up sociology at the Ateneo de Davao College (Class 1967) and pursued a Master's Degree in Economics at the Asian Social Institute (1970).
Their paths would cross again under martial law with Gaspar as a political detainee, Dureza one of his first batch of lawyers and Duterte as government prosecutor.
After his release from detention in 1985, Gasoar joined the Redemptorists as Brother, and went on missionary work in Arakan, North Cotabato; San Fernando, Bukidnon; Josefina, Mahayag; Dumingag and Lakewood in Zamboanga del Sur; Kolambugan in Lanao del Norte; Roxas in Zamboanga del Norte, Kulaman in Sultan Kudarat province; and recently in Jose Abad Santos in Davao Occidental and Maramag, Bukidnon.
Between missionary work among the grassroots in the hinterlands, Gaspar returned to school and finished his PhD in Philippine Studies at the University of the Philippines in Diliman, Quezon City in 2001.
Dureza is now Presidential Adviser on the Peace Process while Duterte is the country's first Mindanawon President.
Gaspar continues to oppose martial law.
(by Carolyn O. Arguillas / MindaNews – www.mindanews.com)