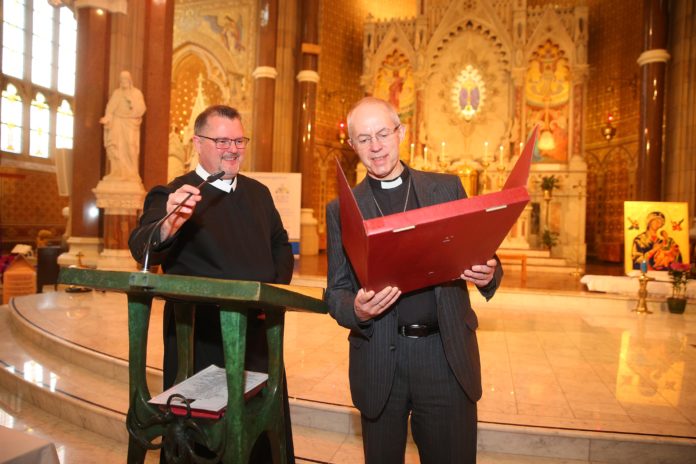 (Belfast, Ireland) Archbishop of Canterbury Justin Welby visited Clonard Monastery on Thursday 22, February. He was accompanied by over 60 members of the clergy of the Church of England. The Archbishop and the pilgrims were welcomed by Fr. Noel Kehoe, C.Ss.R., Rector of Clonard.
Recalling the legacy of the late Fr. Alec Reid C.Ss.R. and Fr. Gerry Reynolds C.Ss.R., Fr. Kehoe said, "Their legacy is of great importance. It teaches us that in life, in mission, and especially in peace-building, hospitality creates space for God to work. So our welcome to you today, is not a mere formality, or good etiquette. Rather, it is an invitation, a prayer, that in the short time you spend with us today, we may be deeply conscious that Divine friendship makes of us friends and fellow pilgrims."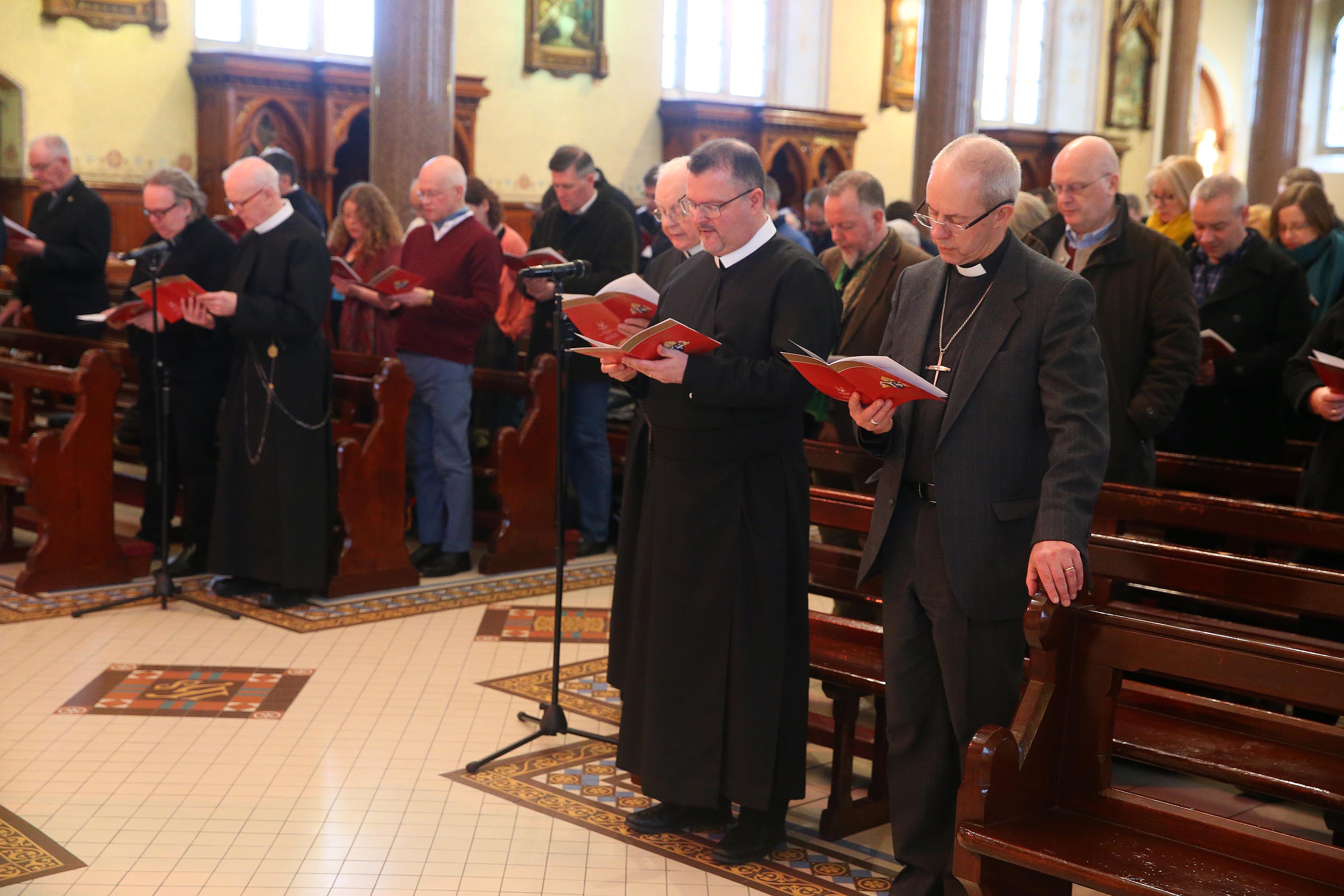 Speaking about the current political crisis in the North, he described it as "a failure in hospitality … a going out to meet the other to discover, in friendship, a common good. The open space is narrowing, and leadership is found wanting." "At the heart of our division is a question of identity. I am British, I am Irish, my culture, my tradition, my language, my flag, my tribe. But a great number of those people who would lead us to exclusive camps also identify themselves as Presbyterian, Catholic, Anglican, Methodist, Baptist. Our churches have a great responsibility that requires leaders to risk."
He asked the Archbishop and the pilgrims to "to pray for responsible leadership in politics and pray for courageous leadership in the churches." which he believes have an important role in modelling a "leadership of hospitality."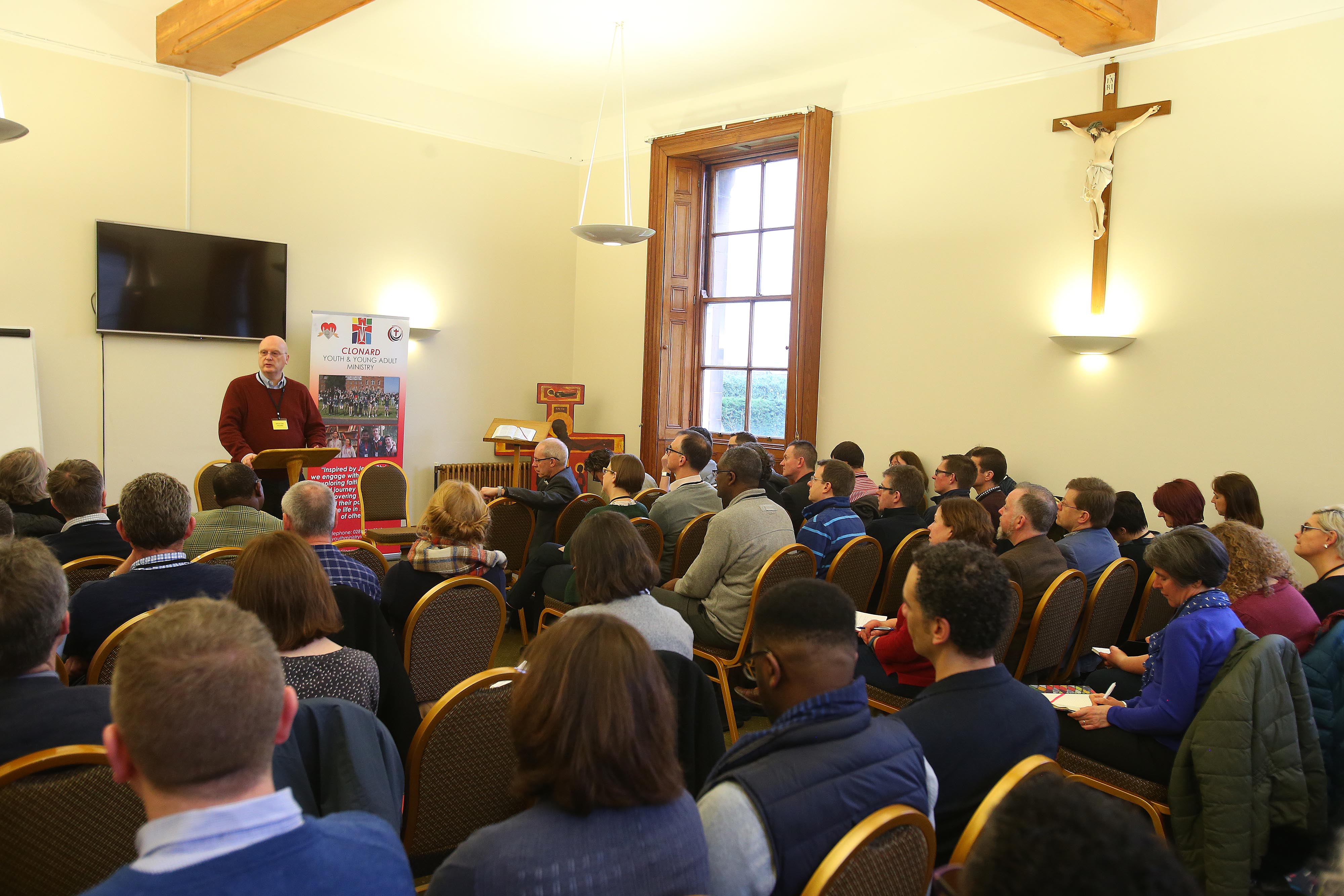 The Clonard visit was part of a private pilgrimage by the Church of England on peace and reconcilation. After praying in the church with the community and people, Archbishop Welby was presented with a hand painted icon of Our Lady of Perpetual Helps, in whose honour the annual summer novena attracts over 10,000 people day. Archbishop Welby then presented the community with an illustration from a 9th Century Irish book of the Gospels that hangs in Lambeth Palace.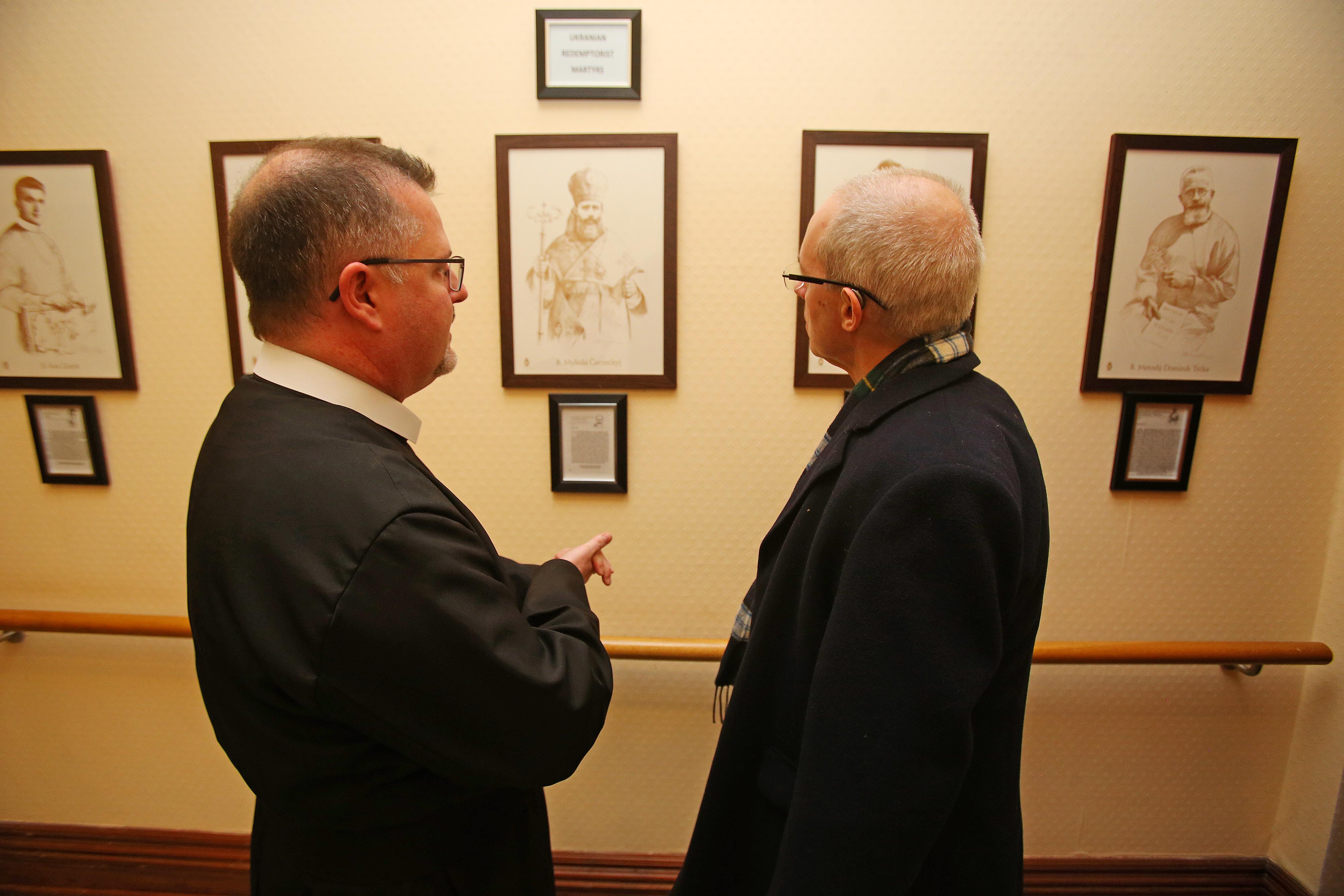 Fr. Ciaran O'Callaghan, C.Ss.R. and Mr. Ed. Petersen of Clonard's Peace and Reconcilation ministry then accompanied the pilgrims on a prayer walk of the peace walls. Prayers were offered for both communites, for victims of violence, for peacemakers, and for those who "we call enemies."
(The Archbishop of Canterbury is the senior bishop and principal leader of the Church of England, the symbolic head of the worldwide Anglican Communion and the diocesan bishop of the Diocese of Canterbury. The current archbishop is Justin Welby, who was enthroned at Canterbury Cathedral on 21 March 2013.)
Scala News