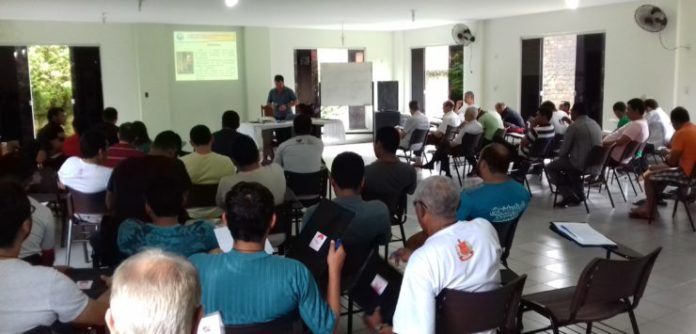 (Ananindeua, Pará, Brazil) – We have finished the First Extraordinary Visit of the General Government of the Congregation of the Most Holy Redeemer (CSSR) in Brazil in Ananindeua (PA) on February 23, with the aim of bringing together the members and reflecting on the decisions taken on the occasion of the 25th General Chapter, with further study of the restructuring and reconfiguration of provinces and vice-provinces. This was the first of six meetings to occur in Latin America until May 2018.
For a week, 70 professed members of the Congregation of the provinces of Porto Alegre, São Paulo and Campo Grande, and vice-provinces of Manaus, Fortaleza and Bahia, discussed proposals to better live the charism of the Congregation at the conference level, responding to the final decisions of the General Chapter which must be implemented in the sexennium, with the emphasis on the diversity of the Amazon region. The assembly also saw the participation of six lay Redemptorists of Belém and Manaus.
To work in groups, the participants presented their realities in the communities of Amazon region, Acre, Pará, Amapá, Maranhão and the Brazilian mission in Suriname: the context of a church directly involved with the poorest and most abandoned. The coordinator of the Pan-Amazon Ecclesial Network, a body promoted by the National Conference of Bishops of Brazil (CNBB), Brother Guttemberg (Marist), presented the need for the integration of Catholic organizations engaged in Amazonian countries for the protection and enhancement of natural resources.
The animators of the Assembly were Fr. Rogério Gomes, General Consultor, and Fr. Marcelo Araújo, Coordinator of the Conference of Latin America and the Caribbean with the presence of the Provincial Superior of Porto Alegre and president of the Union of Redemptorists of Brazil (URB), Fr Edézio Borges, and the vice-provincial of Manaus, Fr Ronaldo Mendonça. Fr. Rogério presented the ways of restructuring, showing the steps defined by the General Government and listening to what the confreres think about this process. "It is important to understand that restructuring is a decision taken and will be carried out, but this does not reduce everything to geographic issues in our provinces. The whole process begins with an understanding of the signs of the times and the need to update our work fronts through the mission, to return to the founding love of the congregation," said the Consultor.
For a detail of the program, you can see http://redentorista.com.br
Genildo Júnior, C.Ss.R.
Secretariat for Provincial Communication
Province of Porto Alegre