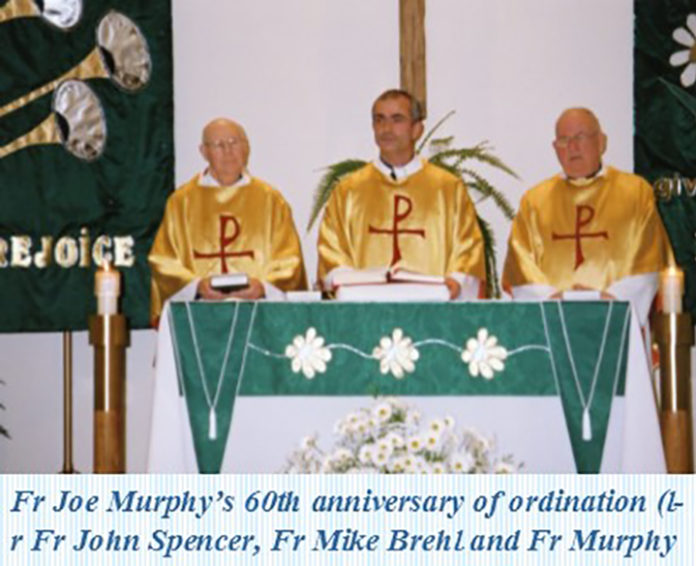 Fr. Joe Murphy, CSsR
(Edmonton, Canada) In May 1918, two important events occurred. On May 5, 1918, Michael Joseph Patrick Murphy was born in Halifax. Two weeks later on May 19, a Province for the English-Canadian Redemptorists was created in Rome.
For Fr. Joseph Murphy, Edmonton-Toronto Province's oldest and distinguished member, the birthday celebration will be held on the actual day of May 5 at St. Alphonsus Church with a Mass and luncheon.
Early Childhood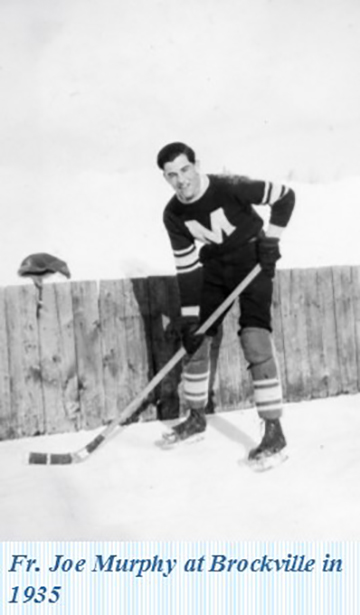 During his centenary, Fr. Murphy has made each community where he lived a better place. Raised in Halifax, Fr. Murphy, the first child of Joseph Martin and Ellen Shea, was baptized in St. Mary's Cathedral and attended St. Mary's Boys School under the Sisters of Charity and St. Mary's College in the city. His priestly vocation developed through many avenues and people. As a young boy of seven accompanying his grandfather Patrick Shea, Joe met Fr. John Foley, a pastor in a country parish. "This generous and amiable priest won a warm spot in my heart," he recalled later. "Such was his example, his kindness and amiability that even as the years rolled by his memory, unlike many others, remained cherished in my heart." An altar server at the family's parish of St. Thomas Aquinas, he read about the persecution of the Church in Mexico and considered the life of a missionary. A meeting with Redemptorists while in Grade 8 planted the desire to join the order. But it would be three years later before Fr. William McCullough took his application to St. Mary's College, Brockville. During the intervening early Depression years, Joe considered quitting school to help his father with the family business until a Sister of Charity convinced the Murphys that Joe should remain in school.
Since 1982, Fr. Murphy has lived in Edmonton, first as the Edmonton Province's Vocation Director (1982-1984) at Liguori House, and bursar (1984-1985) at Scala House. Moving to St. Alphonsus parish as associate pastor (1985-1998) and superior of the community (1993-1998), he celebrated his 50th anniversary of ordination with fellow classmate Fr. John Spicer in 1993. He joined the retired Redemptorist community at Grey Nuns centre, later renamed Villa Marguerite, (1998-2013) and now lives at the Youville Home in St. Albert.
By MC Havey, Archivist
To read the full article on Fr. Joe, view the link below: