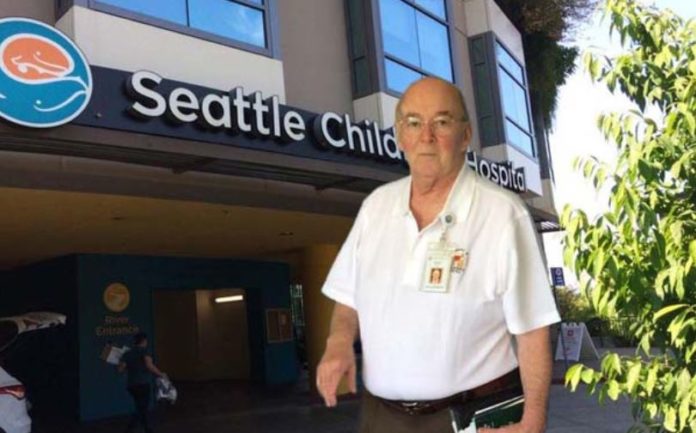 Fr. Denis Ryan has worked as a chaplain for Children's Hospitals in a number of American cities. Writing in an anecdotal style Fr. Ryan takes us on a journey to discover God's grace even in the midst of suffering and sorrow.
(Washington, United States) I was home from the Air Force, standing in the kitchen preparing breakfast when I heard someone at our back door.  It was Mary, our next store neighbor, looking for my Mom. "Mrs. Ryan, Mrs. Ryan," Mary always called my Mom, Mrs. Ryan even though Mary was the mother of six children, and a registered nurse who had lost her husband at an early age.  I asked her to come in while I got Mom.  Only slowly did I realize how nervous she was.  Mom was upstairs and came down to see what was the matter.
Mary explained that her kids had been eating cherries and that the baby had stuffed the pits up her nose.  Mom looked at Mary and quickly said let's go, turning to tell me to get a can of pepper.  Why would she want pepper I thought to myself, but with Mom, you did not ask why, you did as she told you!
Armed with the pepper I walked into the house. Mary was just watching as Mom stuffed pepper up the baby's nose.  It only took a few moments for the baby to start sneezing. Mom watched the baby began to pass the cherry pits.  Mom asked Mary how many pits were up there?  Mary replied that she didn't know.  Mom gave the baby another dose of pepper and the baby started sneezing again, but no more pits came out.
The poor baby sneezed all day, Mary was as grateful as I was befuddled.
There are days that I walk into Children's Hospital with the same sense of bewilderment, wondering what I will face this day.  To the unfamiliar eye the environment seems chaotic. Every unit has its own medical staff, specialized equipment, and hurried and purposeful nurses scurrying back and forth; and, of course, there are the distraught parents sometimes wheeling about their children, or merely wondering aimlessly while awaiting the words of staff and doctors. Every unit has its tales of hope renewed, and in some awful moments, of worst fears realized.
If I can wonder what faces me on a daily basis after eight and a half years of missionary work in three different Children's hospitals, how much more confused must be parents as they walk through the hospital doors for the first time.  I can emphasize, remembering what it was like so many years ago to disembark from a commercial airline dropping me off at Da Nang Airbase in the Republic of South Vietnam, disoriented and wondering about the uncertain future that lay ahead of me.
Families face the same sort of disorientation as they bring their children to Children's and sometimes begin the fight for their children's health.  They are being asked to place their child in the hands of doctors, nurses, technical people and medical machines that appear mechanical and inhospitable at best.  It is difficult walking into their child's room, seeing lines of medications hooked up to their loved one and wondering where the hope will come from.
I remember meeting a parent as I was walking back into our New Orleans rectory one day.  She was in the parish's book store which is also connected to our shrine to Blessed Francis Seelos, a Redemptorist priest who lost his life to yellow fever in the 1800s.  It is believed that Seelos has healing qualities. I remember one of the salesgirl's voices as she said, "That is Father Ryan entering the rectory now."
I turned around to find out who had said my name as the counter girl came over and introduced me to this woman.  We exchanged pleasantries and I asked how I could help her.  She began to tell me a complicated story of her daughter, high school aged. I stopped her and asked if her daughter was on 4-West, she abruptly answered yes! 4-West is the cancer ward, now called the oncology unit.  An old fear came back: as a child anytime someone mentioned cancer, death was nearby, the usual by-product of the disease.
I came to the fourth floor and met the woman's husband, but the girl was tucked under a blanket suffering the after-effects of the chemo.  The parents would come in for treatments and then go home and come back again, repeating the same arduous cycle.  Over time the mother has kept in touch with me, sharing her fears and her hopes. One day she announced with delight that their daughter was declared in remission.  Mom kept me apprised of her recovery and the blessings in her daughter's life: graduation from high school, college, studying to be a teacher and finally her work as a teacher of young kids.  A great ending to a story, a circle of hope completed.
A great end to this story, which I pray could always be the case…"
Hospital as Family
It's a new day, and I'm walking the halls of Seattle's Children Hospital.  Moms and dads walk with their children, others hover over wheelchairs, and some, almost on tiptoes, are poised beside a child pushing a walker. Some look weary or far away, lost in thought. Others inspire courage just by watching their slow, deliberate steps. There are families I know who are praying for a miracle. And some of the kids in unguarded moments are acting, well, just like kids: talking or laughing a bit too loud, paying little attention to where they're going, excited by a new toy, or eager to explore the day. But no matter how each group parades down the corridors, the concept of the family keeps running through my mind.
Something very unique happens to those who have children in the hospital. They begin to become friends with other families who share the common bond of a sick child.  Whether they are sleeping in their child's room or living at Ronald McDonald's apartments around the hospital's campus they are exposed to families living in that same emotional whirlwind of despair and hope.
If I look back over my life I began to consider how many different families I have been a part of: college, military, Wall Street, a religious community and now this, Wall Street group of people thrown together by the bond of illness.  They live a common life sustained by hope alone. Serving as a chaplain at Children's I have become a member of this secret family of hope.
As a Catholic priest, there are many different ways that I am called to serve.  To bless and anoint the sick, to bring comfort, to say Mass for the children's families and also for the family of physicians, nurses, technicians and all others who inhabit this cosmos of the wounded.
When I first started serving at Children's in New Orleans it soon became apparent that there was a fine line drawn between the families and the doctors.  The medical staff took care and saw to the needs of the sick child.  The doctors informed the parents of the protocols they were testing, but then the parents were left alone dependent on the nurses and other staff to offer more information or even comfort.
Here is where the chaplain comes in.  Armed with all that is possible, I join the family in their hope. After eight years, I have acquired a pretty good understanding of what is going on and all that may well appear foreign or overwhelming to families. I help them navigate the whirlwind.  I adopt them and hopefully, they will take me in as well.
Now serving Seattle Children's Hospital, there is a daily census of over three hundred patients that seems to grow by the week and month.  It is a twenty-four hour a day effort with multiple storylines.  I make myself available those twenty-four hours each day. God Bless!
The Humor in the Tension
It was close to four in the morning when I pulled into the parking lot at Redemptorist Church in Kansas City.  I was just coming home from Children's Mercy
Hospital. If I was lucky I could get a two-hour nap in before I had a get up to say the early morning Mass.
When I walked into the sacristy I was met by Brother Charles Long.  His usual morning hello was a wisecrack about my going to bed earlier instead of being out all night.  I started to tell him where I had been, but he cut me short.  "I know where you've been, and I don't know how you do it."
That last phrase is a common one that I hear quite often about those who work at Children's.  The work is not easy and at times it takes a lot out of you, but there is a need to serve the families that unite all of us at the hospital.  And not all of the work is devastating.
A while ago in the late evening, I was called to the birthing area at Children's Mercy to be with a family in which the mother was having difficulties in the last phases of her delivery.  When I entered the room I thought I was in a drum rehearsal. There was a cacophony of sounds, as everyone scurried about at their various tasks. I asked whose heartbeat that was on the monitor. From what seemed far away, the mom looked up for a moment and said the heartbeat was for the two of them: her and the baby.  I spoke with the mom for a while and ascertained that she was producing too much amniotic fluid and the child's lungs were filling up.
The mother's mother was there and she turned and asked me if I was allowed in the delivery room.  I said in situations like this the hospital is lenient, and I was there to baptize the child.  The mother's mother seemed hesitant, but the Mom said, "Frankly Father, I don't care what you see just get this child safely out of me!"
Permission was given to me and another family member.  There was a curtained area where we could stand.  When we entered the area, there was a doctor with a rather long needle entering the womb and then the child's lung to withdraw fluid.  I watched for a few moments when the doctor abruptly said to the surgeon, deliver this baby now.  We will get the other lung once he is delivered.
In what seemed one of those moments where time itself stands still, the child was finally delivered via C Section.  The newly born baby was not beautiful.  He had been struggling, floating in a sack of fluids for too long a time. The child was taken to an area where the doctors deftly cleared his second lung. After another long, tense moment, a firm, ungrateful shriek made it quite clear the baby's lungs were in fine shape.
Afterward, our band of onlookers and well-wishers were walking together down the hallway when the doc with the needle met us.  He wanted to know who we were.  One of the women said I am the aunt, the other was the Grandma, he looked at me and one of the women said that's the father.  The doc began to congratulate me and tell me what a beautiful child I had.  I stopped him and said I am not the father, but the Catholic priest who is here to baptize the baby. Laughingly he apologized and told me at such moments we're all parents in one way or another.
The baby was delivered and in one piece except for a few black and blue marks where the needle had entered his lung.  I baptized the baby and headed home with another bucket list item checked off.  I had now seen a baby born!
Eight Years and Counting
Eight and a half years in, there is no conclusion to this work. The years in these hospitals have molded me in ways I'm probably not aware of still.  The years have been a study of God's grace.  I am still amazed and humbled that so many families literally welcome me into their families.
It seems so often to be late evening when I get a call. This time it was at Children's in New Orleans. The doctors were struggling to save a ten-year-old boy's life.  They gave me the task of liaison between the parents and staff.  Finally, after what seems the usual eternity, the doctors were through and sent me to tell the parents that it would take a few moments to get the boy cleaned up.  Back in the Pediatric Intensive Care Unit one of the doctors whistled at me, and with a nod barked out, "you're up!" For a moment, like a deer in headlights, I stood there wondering what to do. Noticing my hesitation, he added, "We doctors can do our best work, but there's always a call for something more, and that's you!"
I walked to the side of the child's bed and began to pray.  Our area of intensive care grew very quiet, and my voice was the only one to be heard.  My voice and my heart began to speak and Father God was there with us.  My last words were those of the Our Father and then the room fell silent again.  The doc who asked me to pray looked at me and nodded a thank you. I nodded back and stood there in silent prayers as people said good night.
The hospital is a succession of interlocking events. I'm one small link, called to help out.  There is no time clock, no time: just a phone call seeking help.
It was again late one evening when my cell rang and I knew I was heading to the hospital.  I arrived at the floor where the nurses were waiting for me. These nurses are always exceptional as they briefed me on details of the child's condition.
The family spoke Spanish; I don't, but family friends and nurses were able to bridge the gap, communicating between languages.  The child, no more than a baby, was very sick with some sort of a virus and they were expecting that he would not make it through the night.
I invited all who were in the room to the prayer.  It is amazing how a silence falls over the room.  The child was baptized and I was saying prayers seeking God's benevolence and compassion.
I remembered from watching a baptism some time ago by an Armenian priest that he baptized the entire body of the child. He said you Catholics bless particular parts of the child; we bless the entire child.  I watched his hand pause as he blessed the child's heart.  I realized he was praying over and on the heart.
On this day at the hospital, I began to pray with my hands resting on the baby's heart; all in the room joined in, reaching out and holding onto the child in beautiful silence.  The only sound in the room was my voice in prayer.  I left the hospital and told the parents my mass and prayers would be for their little guy.
I happened to be in the hospital the next day and stopped by to see how the family was doing.  God provides. They took the child home a few days later.
Butterflies and Hope
To me, a hospital is a place of beauty, love, and hope. Through the years of my ministry, I have grown to understand with gratitude the great gift of health.  My time and my efforts are given in love for my thirty-two healthy nieces and nephews.  Those thirty-two have played an enormous part in my life and my priesthood.  The gifts at the consecration of my Mass of Ordination were presented by the youngest of our kids in procession with my older nieces.  For me to be able to offer them the body and blood of Christ is a tribute to our family and to how our Mother and Father raised us and loved us all.
I met a family whose newborn twins I was to baptize. It was a sad occasion as one of the twins was struggling and would be taken to heaven shortly after she was baptized.  The other girl survived.  After a passage of time their mother called and invited me to the butterfly memorial service for all the families who had lost a child that year. A memorial to all these kids is heartbreaking until you realize that a great number of these families have become a larger family through their difficult ordeals.
I have stayed in touch with this family over time.  Whenever my friend drives past our Redemptorist Parish in Kansas City I get a photograph of the Church that I called home for four years. I hold these memories and this friendship deep in my heart.
There are moments in time when I walk away from the hospital and these families I have ministered to with many and mixed emotions coursing through me. One could speak of the beauty of the day and the darkness of night, but day and night don't take special precedence in the hospital.  Working at Children's is what I love, yet it takes a chunk out of my heart.
Our Mother of Perpetual Help
I am a Redemptorist priest of some twelve years.  My ordination took place in the parish I grew up in.  The pastor there asked if there was anything special that I wanted for my ordination.  I told him that when we were kids there was always a picture of Mary over one of the doors.  He promised me he would go looking for one.  He came back with a picture of the Icon of Our Mother of Perpetual Help. Those of you who are Redemptorist parishioners will recognize the significance of the Icon to Our Redemptorist Family.  The Icon of Mary as our Mother of Perpetual Help was returned to the Order in the 19th Century when Pius IX appointed us as custodians and missionaries of the Icon. The Icon has been brought to the Chapel at Washington Children's Hospital.  I never walk into these hospitals without Mary in my heart.  Blessing these children and families. She is always there and prayed to.  We never finish Wednesday's family Mass without praying to Mary for the children, families, and staff of the hospital.
Mary guides my efforts in this work as I spend time with all that I meet and serve at Children's.
Opening lines of The Devotion of Mother of Perpetual Help, Mary Our Help
Most holy and Immaculate Virgin and our Mother Mary, you are our Perpetual Help. Out, our refuge and our hope.
We come to you today.  We thank God for all the graces received through your intercession.  Mother of Perpetual Help, we promise to love you always and to do all we can to lead others to you.
Mother of Perpetual Help, confident of your powerful influence with God, obtains for us their graces.
The strength to overcome temptation, a perfect love of Jesus Christ so that we will live with you and your Son for all eternity.
Mothers are amazing people and it is difficult to understand the depth of what they go through. They are unique in their response and gratitude to any and all help and compassion that you bring to their child as well as to them.
These hospitals have brought miracles into my life even as I have witnessed difficult situations. I have seen the struggles of families straining to hold onto hope.  Some situations happen without warning and others take time to develop and ask for more from you.  Not every situation has an explanation, but each demands compassion and love at every turn.
This closing passage comes to me from a friend I love dearly whom I met through Children's.  If God threw me a lifesaver, it is this Mom.  She opens her heart and captures me in her capacity to express herself:
I never thought one of my dearest friends that knows my deepest thoughts would be a Catholic Priest.  I've always challenged the church before the girls.  Never would I nor anyone else believe my good friend is Father Denis.  With the girls, I see God differently.  I know Him outside the Church and that's ok.  I feel closer to Him now than ever before.  Boy does He ever work in mysterious ways. So glad I have you in my life.
These pages are written for all the families I have been touched by and all that have accepted me into their lives at perhaps the darkest moments in their lives.
Most of all I offer it to all of you, thanking that Mother who is the friend of us all: Our Mother of Perpetual Help. God Bless!
Fr. Denis Ryan, CSsR.