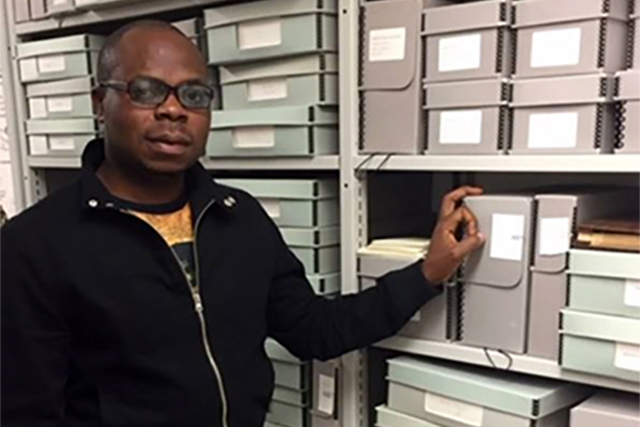 (Toronto, Canada) It may be 8,901 km from Ibadan, Oyo State, Nigeria to Toronto but Fr. Pius Oyeniyi has quickly bridged the divide. He has travelled from the Vice-Province of Nigeria to the Edmonton-Toronto Region to participate in archival mentoring at the Regional archives. This experience will prepare him for his assignment of setting up the Vice-Province's own archives. It has been a pleasure to welcome Fr. Pius to the Edmonton-Toronto archives for his two-month mentorship. It has been a hands-on learning experience from which we have both gained. The outcome will be Fr. Pius becoming the Vice-Province's first archivist, and he has embraced his task.
Fr. Pius lives with the Liguori House community at the Redemptorist Spirituality Centre in Ibadan, the second-largest city in Nigeria, which, at approximately 3 million souls, is similar in size to Toronto. He is currently involved in an important apostolate in Nigeria – Mother of Perpetual Help Devotions, which includes overseeing lay associates who assist in making our Mother of Perpetual Help known across Nigeria. Fr. Pius is also on the MPH Icon Visitation Team in the Vice-Province.  He will continue in his apostolate while also taking on his new role as archivist, which will entail organizing the Vice-Province's records with the aim of documenting the Redemptorists' history in Nigeria, as well as their continuing work there.
What has struck him most about working in the Edmonton-Toronto archives is "how the Redemptorist history in Canada has been beautifully preserved and organized in the archives," as well as "the commitment of the confreres to building efficient and useful archives for themselves." What he will take back from his mentorship is "the touch of professionalism he found in the archives."
That professionalism very much includes the assistance of retired Edmonton-Toronto archivist, M.C. Havey. M.C. has contributed her time and expertise to Fr. Pius' training by being present for one day a week in the archives to discuss various topics in-depth, particularly focusing on the importance of the confreres – their lives and work – in Redemptorist history. As well, she has organized a field trip to other Canadian Catholic archives in Toronto. In September, M.C., Fr. Pius and I will visit both the Sisters of Service archives and the Basilian archives housed at the University of Toronto.
While in Toronto, Fr. Pius has not been limited to working in the archives. He has concelebrated Mass at St. Patrick's church and attended Mother of Perpetual Help devotions there. He very much enjoyed a trip taken with Fr. Charles Duval to Ste. Anne-de-Beaupré in August, where he was also able to concelebrate Mass.
Fr. Pius is grateful for these experiences and grateful to Fr. Michael Brehl, Fr. Joterio Aghoja, Vice- Provincial Superior of Nigeria and to Fr. Mark Miller for making his Canadian mentorship possible. He equally commends the newly elected Provincial Superior, Fr. Charles Duval, and all the confreres at St. Germain and St. Patrick's communities for their excellent fraternal care and hospitality.
It has been a privilege to have Fr. Pius in the archives over the summer. As we have read through the records together his keen eye and quick observations have helped me hone my own, still growing, knowledge of the Redemptorists and their story in Canada. As well, Fr. Pius has helped deepen my understanding of the breadth of the worldwide Redemptorist community. All of which demonstrates that mentoring works both ways – we have learned from each other.
Virginia De Witt, Archivist