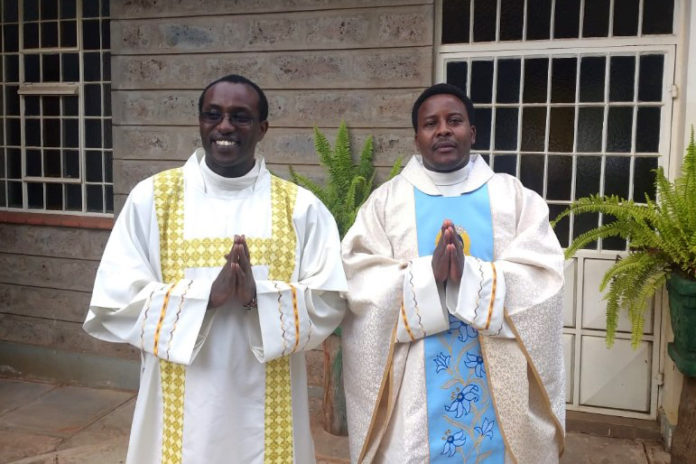 (Kenya, East Africa) Saturday, 22nd February 2020 will be an unforgettable day in the history of Kenya Mission. On that day two of our confreres, Lewis Mutiso and Wanyoike Isaac received the precious gift of ordination and thus raised to the status of the clergy. Dn Lewis Mutiso was ordained a priest and Br Wanyoike Isaac was ordained a deacon by Bishop David Kamau, Auxiliary bishop of the Archdiocese of Nairobi, Kenya. Along with them 23 Jesuits and one CMI brother were ordained as deacons at Hekima Jesuit College, Nairobi.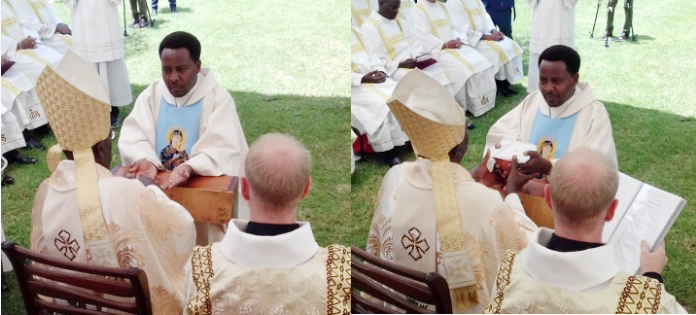 Lewis Mutiso and Wanyoike Isaac joined Redemptorists as students of Orientation Year in the year 2010 at Iruma, Meru. After three years of Philosophy at Consolata Institute of Philosophy in Nairobi they did their Novitiate at our house in Karen, Nairobi. They made their first commitment on 18 July 2015. After one year of Theological studies in Harare, Zimbabwe the remaining studies were done at Don Bosco Utume Salesian Theological College, Nairobi. They made their final commitment on 4 August 2018. On 31 August 2019 Lewis was ordained a deacon.
Lewis Mutua Mutiso was born on 8 December 1983 as the second last child of late Joseph Mutiso Mbiti and Kativi Mutiso. He has five brothers and one sister. He hails from Blessed Virgin Mary of Miraculous Medal Parish, Muthetheni, Machakos Diocese. He came to know Redemptorists through his friend Br Isaac. He is very much interested in history and is eager to study further Church history and Canon Law.
Wanyoike Isaac was born on 12 November 1989 as the third child of Lawrence Mwaura and Mary. He has two brothers and three sisters. He hails from Divine Word parish, Kayole, Nairobi. He came to know Redemptorists through a friend who knew one of our priests. Wanyoike is gifted with music and has a great zeal for the Redemptorist mission.
The ordination ceremony was attended by more than a hundred priests and a number of religious and laity. The Mission in Kenya is enriched by the ordination of these two brothers. We hope to have the ordination of two more brothers as deacons on 1st August 2020. We thank our Provincial, Fr. Edward Raju (Bangalore province) and the provincial government for their wholehearted support and blessings.
At present there are seven candidates in the Orientation Year, 12 students are doing Philosophical studies and two brothers are doing Theological studies. There are also two brothers in the novitiate in Harare. This year we hope to have eight more candidates. Its 30 years since the Mission in Kenya began by the Province of Bangalore. Fr. Lewis is the tenth priest to be ordained from Kenya.
Fr. Paul Pazhangattu, C.Ss.R.
Mission Superior