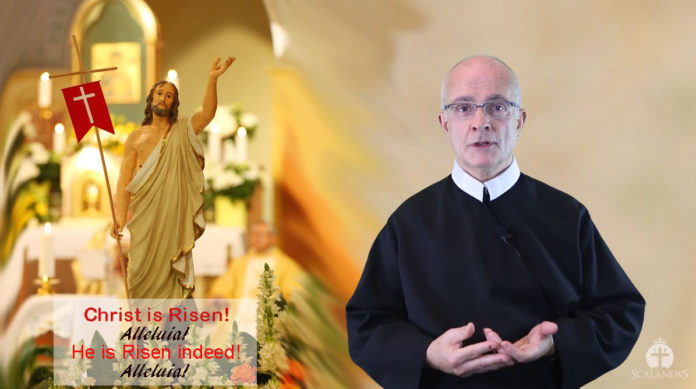 Dear Confreres, Brothers, and Sisters,
Once again, I greet you from St. Alphonsus in Rome, and the Shrine of Our Mother of Perpetual Help.
In a few short hours, the joyful shout will ring out once again across our wounded world: Christ is Risen! Alleluia! He is Risen indeed! Alleluia!
On behalf of all of us here in Rome, let me wish you a very blessed and joyful Easter! May the Lord bless you with peace, and hope, and new life!
This year has been quite extraordinary. For the first time, the whole General Government has been together for the entire season of Lent. I arrived back in Rome on  Ash Wednesday, just in time for the 'lockdown' which has paralyzed so much of Europe, and now the rest of the world as well.
In a very real way, the -:
–         United in fear and anxiety of how the coronavirus pandemic will affect our families, our nations, and ourselves.
–         United in a common effort to find the vaccine and to overcome this devastating illness.
–         United in our common uncertainty about what our life and our world will be like after Covid-19 has passed.
We Christians have also experienced an extraordinary Holy Week – with locked Churches and empty pews! But this has not stopped us from celebrating this Holy Week with Jesus our Redeemer.
Together with Jesus, we have remembered his passion…
Alleluia! Christ lives! He is Risen!
May the Blessing +
Fr. Michael Brehl, C.Ss.R.
(Watch the video for the complete message.)