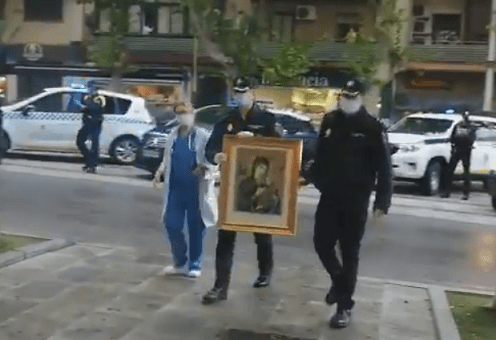 (Jaén, Spain) – These days we are seeing unusual images happening all over the world as a result of the confinement to which we are subjected because of the state of alarm.
April 14 in Jaén, the national police took an image of the Virgin of Perpetual Help to the Cristo Rey Clinic in the capital, amidst applause and a great welcome from the health personnel.
This would never have happened in other circumstances. In the video, you can see the joy and the expressions of faith of the hospital workers and the local people.
(from the web site jovenescatolicos.es)
LA POLICÍA NACIONAL RECIBE LA IMAGEN DE LA VIRGEN DEL PERPETUO SOCORRO DE LA CLÍNICA CRISTO REY DE JAÉN PARA QUE LOS PROTEJA EN SU LABOR.

Pubblicato da Mariano Cabeza Peralta su Mercoledì 15 aprile 2020