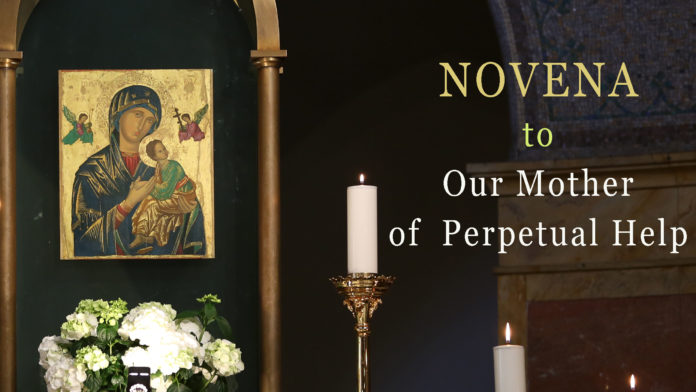 Greetings to you from the Redemptorists of the St. Alphonsus Community, Rome.
As we go through these difficult times brought about with the pandemic lockdown, we, as people of faith, continue to look for ways and means to build our relationship with God and strengthen our faith.
We, the Redemptorists, also look forward to celebrating the feast of the Mother of Perpetual Help worldwide on 27 June 2020.  And so, we invite you to join us, in the presence of the original Icon of Our Mother of Perpetual Help, in seeking God's blessing and help during this time of lockdown.
Therefore, we invite all the devotees, people of faith, different faith, and no faith, to join us in celebrating the Novena in English every Saturday starting from the 25th April, 2020 at 2.00 pm (CEST) live from the Shrine of the Mother of Perpetual Help, Rome.
(Ireland 1.00 pm, India 5.30 pm, Philippines 8.00 pm, USA 8.00 am)
Fr. Michael Brehl, C.Ss.R. the Superior General will begin the Novena on 25th April, 2020.
———-
Kindly join us through Youtube or Facebook.
Scala News (Youtube) 
https://www.youtube.com/channel/UCFqZkE0fUPeDbRhKN6Qs-eQ?sub_confirmation=1
https://www.youtube.com/channel/UCFqZkE0fUPeDbRhKN6Qs-eQ
Shrine of Mother of Perpetual Help, Rome (Facebook)
https://www.facebook.com/Original.Icon.of.Mother.of.Perpetual.Help/
Kindly send the petitions and thanksgivings to  petitionomph@gmail.com
Scala News