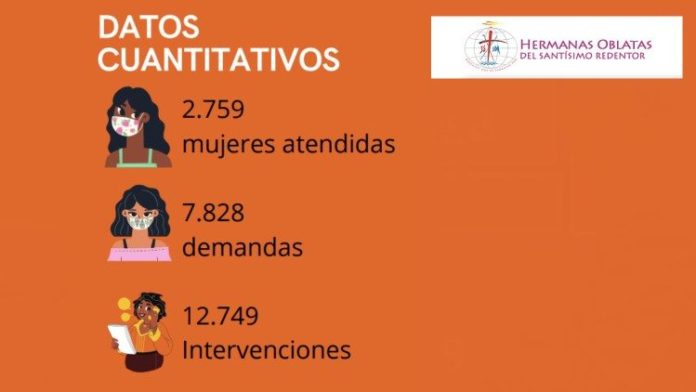 The social projects of the European Province of the Oblate Sisters of the Most Holy Redeemer presented on July 9, show a report on the consequences of the Covid-19 pandemic on women in prostitution or trafficked for sexual exploitation.
The report, which is based on Oblate projects in Spain, Italy and Portugal (Alicante, Almeria, Ascoli, Barcelona, Cadiz, Ferrol, Las Palmas, Lisbon, Madrid, Murcia, Palma, San Benedetto del Tronto, Santiago, Seville, Tenerife and Valladolid), notes that a total of 2,759 women were assisted during the state of alarm, as well as 7,828 requests and 12,749 interventions.
Similarly, the text reveals that, although during this period of health crisis, the consumption of prostitution in the street and some closed areas has decreased, it has not completely disappeared. On the contrary, it has been readapted to a new scenario of confinement and vulnerability, reinforcing new forms of prostitution, as is the case with the use of new technologies.
The situation of women
The purpose of this study is to make known the reality lived by women, their needs, feelings and demands, as well as the responses offered by Oblate Projects Europe, in which they offer an accompaniment to women.
Thus, during the presentation, it was pointed out that, during this period, many women have been confined to the flats and clubs where they practiced prostitution, where they continue to pay for their rooms even though they have no income, which increases their debts to pimps or moneylenders. In other cases, evictions from such places have taken place, leaving women in the vulnerable position of having nowhere to go.
In addition, during the confinement, women who were engaged in prostitution on the street stopped their activity, which prevented them from meeting their basic needs and those of their families. For their part, women who are trafficked for sexual exploitation are being coerced into staying in business, being subjected to exploitative situations.
Finally, the study also highlights that women who had obtained a job in cleaning or caring for the elderly, as well as in the hotel and catering sector, have lost it.
Physical and psychological impact
This whole situation has generated a serious physical and psychological impact on women, who as a result of this crisis experience isolation, anxiety, loneliness, lack of protection, apathy, anguish, despair, increased stress levels, as well as uncertainty and insecurity in the face of an uncertain future due to the consequences of this context.
Women report concern for their children and relatives in their countries of origin, but also fear of contagion and of being attacked by the increased aggression caused by confinement.
Faced with this situation, the women have asked the Oblate projects for information on Covid-19 and for social-health advice on how to protect themselves and their families. They have also asked for preventive material and coverage of their basic needs, from food, to payment of rent, medication, hygiene material, electricity and water bills, etc.
They have also requested attention and psychological accompaniment, orientation for the education of their children, help to find lodging and information and accompaniment for procedures related to social aids, administrative procedures with foreigners, ERTES evictions and other legal processes.
The response of the Oblates
For this reason, the Oblates have offered them, through phone follow-up, information on the measures to follow in the Covid-19 crisis, as well as protective material (masks, gloves, gel…), psychological attention, orientation and advice for the telematic management of benefits, administrative procedures, and the processing of economic aid to cover basic needs, especially food.
In addition, training has been provided by sending digital or audiovisual material, and individual follow-up has been carried out to reinforce employment guidance, also sending job offers and acting as a labour intermediary.
They have been given guidance on dismissals due to circumstances related to the state of alarm, and have been helped in online and telephone dealings with the Employment Service of each Autonomous Community, with the SEPE and with the General Treasury of the Social Security. In addition, residential resources have been provided, either within the organization itself or by referral to others.
In short, the report highlights that the situation of precariousness, poverty and exclusion experienced by women in prostitution who are assisted by the projects of the Province of Europe has been aggravated by the coronavirus crisis. The period of confinement and isolation has led, on some occasions, to an increase in violence, coercion and exploitation of women, and technology has been boosted in the new forms of prostitution.
This new reality has demanded the rethinking and design of new forms of care, incorporating technology in the personalized accompaniment of women, as well as in the Training Projects. In addition, the report stresses that, although there have been difficulties in coordinating with the public administration in some provinces, it is worth highlighting the widespread positive experience of networking between public and private entities.
(www.hermanasoblatas.org)