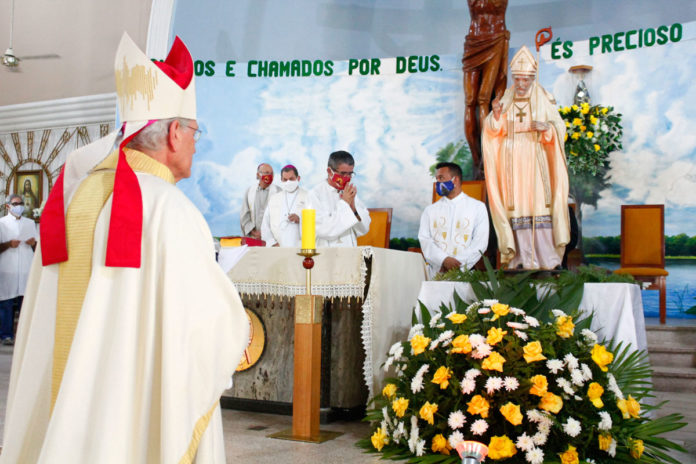 On the first day of August, the Vice-Province of Manaus celebrated the feast of our founder, St. Alphonsus: Bishop and Doctor of the Church. Archbishop Leonardo Steiner of Manaus cordially accepted our invitation to preside at the liturgy. It was the first time Archbishop Steiner traveled to Our Lady of Aparecida Parish to celebrate with the Redemptorists. Concelebrants included Bishop Emeritus Gutemberg Freire Régis of Coari and the two Auxiliary Bishops of the Archdiocese of Manaus – Tadeu Canavarro and José Albuquerque. Many Redemptorist confreres, including Vice Provincial Superior José Amarildo Luciano da Silva, and two permanent deacons of the Archdiocese also concelebrated. Many local religious participated in the Mass, along with Redemptorist seminarians, lay missionaries, oblates and parishioners.
In his beautiful homily, Archbishop Steiner reflected on the mission of St. Alphonsus, citing his virtues of compassion and love – these and all his other virtues form the perfect man and missionary. At the end of Mass, Fr. Amarildo thanked the Archbishop and the other Bishops for their presence and friendship. Before the last blessing, Dom Leonardo gave this final message: My dear Redemptorist brothers, make Jesus the journey of life and existence in the same love that He has for us. Be not afraid of being missionaries of love, of love. After the celebration, all were invited for lunch with our large Redemptorist family.
by Tom (Miguel) McIntosh, C.Ss.R.
Courtesy of Denverlink, update August 14, 2020, Photos by Tanna Kellyn Lima Holanda