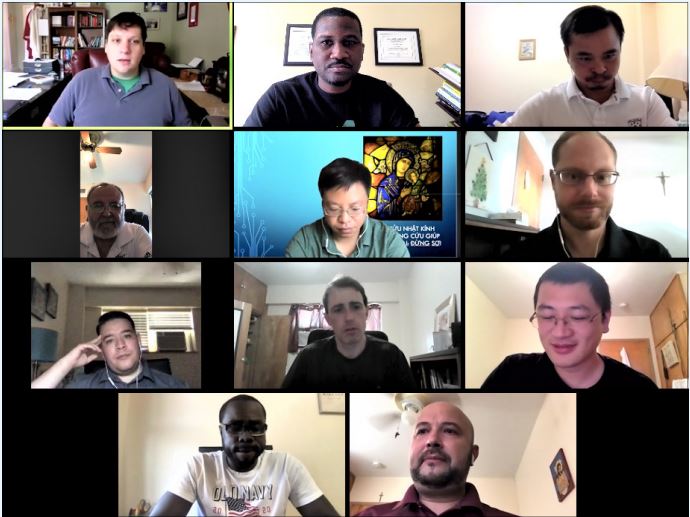 (Denver, USA) North American Theologate students in San Antonio began the new school year with a retreat on Unity – mirroring the Congregation's theme of solitary and perfectly suited to this time of pandemic only a few months before the country's presidential election.
Fr. Aaron Meszaros, who has experienced tremendous success building unity with young adult and youth groups, facilitated the retreat on John 17:11: And now I will no longer be in the world, but they are in the world, while I am coming to you. Holy Father, keep them in your name that you have given me, so that they may be one just as we are.
All participants remained at their computer screens in the safety and comfort of their rooms during the Zoom sessions. Fr. Peter Hill (Baltimore Province) and our own Fr. Jose Chavez, co-directors of formation, were as impressed with the long-distance retreat as the eight students – Brian Vaccaro, Royce Thomas, and Song You (Baltimore Province) Jose Antonio Montoya and Steven Urban (Denver Province) Ivan Dzhur (Province of Canada) and Huan Le and Huyen Nguyen (Province of Vietnam).
"We're also conducting our Formation Friday sessions online. One of the blessings of using technology during this time is that we can cast a wide net for presenters," Fr. Peter said. Fr. Manny Rodriguez from the General Government in Rome is scheduled to present on September 4. Other speakers in September include Redemptoristine Sr. Moira in New York; Rani Biswas, an attorney in Florida; and Fr. Mike Smolinski in Saskatoon, Canada, who will conduct a retreat day on September 25.
"We're demonstrating flexibility in adapting to the circumstances, carrying on in the spirit of St. Clement Hofbauer," he said.
Submitted by Kristine Stremel, Photo by Fr. Peter Hill
Courtesy of Denverlink, update August 21, 2020