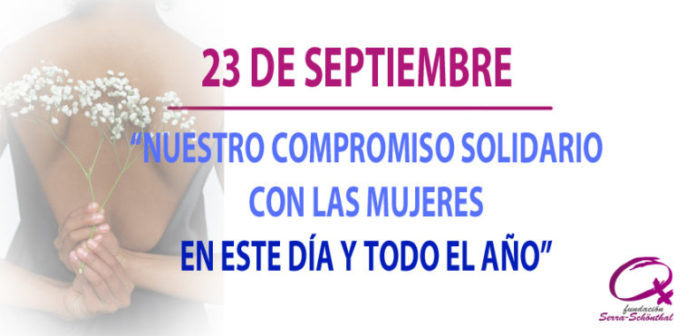 September 23: International Day against Sexual Exploitation and Trafficking of Women and Children
Our commitment to solidarity with women on this day and throughout the year.
2.5 million people are victims of trafficking worldwide. 80% of the victims are women and girls, most of them for sexual exploitation. In Latin America, the countries are of origin, transit, and destination. Western and Central Europe is the area where there are more victims of East Asia and sub-Saharan Africa (UNODC).
The pandemic that we are experiencing makes visible the clear vulnerability of this group of women, so the Serra-Schönthal Foundation supports and is committed to women in prostitution or victims of trafficking to COVID-19 through the "Contagia Solidaridad" campaign, helping to cover food, medication, and hygiene costs in more than 25 projects in 10 countries.
All of them against sexual exploitation and human trafficking.
The Oblate Sisters of the Most Holy Redeemer are a group of women called, called together in community, and sent to live the following of Jesus, being Good News of the Kingdom for women who are in prostitution and/or are victims of trafficking for sexual exploitation.
Our being Oblates leads us to commit our lives to equality, justice, liberation, and life.
This exciting project, initiated by our Founders, José María Benito Serra, and Antonia María de la Misericordia, is developed in a shared mission with the entire "Oblate Family", giving rise to creative and audacious responses from different forms of collaboration, perspectives, life experiences, and professional profiles.
We are currently present in 15 countries.
(www.hermanasoblatas.org)