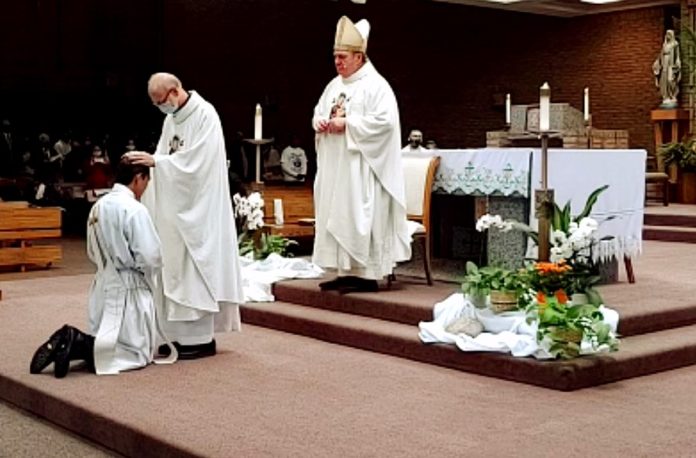 Heartfelt Musings on Father Huy Vu's Ordination
I attended the ordination of Fr. Huy Vu on Sunday, October 4 at St. Alphonsus Church in Brooklyn Center. It was by no means my first ordination, as I have attended others over the last few years, so I expected that it would be pretty much routine. The restrictions necessitated by COVID-19 changed the dynamic and challenged the planners of the event on numerous occasions, not to mention that the ordination had been postponed more than once. Regardless, the people gathered, and everyone was in their place.
What made this day and this ordination special for me, so special that I thought it important to share some of my thoughts with the members of the Denver Province and other readers of this newsletter, includes the random observations that follow.
I observed a real love and a real friendship with/for Huy among the confreres who gathered. I was struck by the deeply felt care and concern that was demonstrated. There was the expected support and encouragement that would be not uncommon from the community, but there was also something more at work. I had not felt this kind of love and mutual encouragement for some time. It was not fake, dramatic, or for that matter even measured by any one of a series of events. Rather, it was something that I could feel and that really made me aware of this blessing and my gratefulness. I thought that perhaps the future of the Congregation is in good hands with these men, my confreres.
The graciousness and the humility that radiated from Archbishop Hebda, who was just joyfully present and who had no need to make himself the center of any conversation,
was illuminating. He most certainly had other things to do and could have easily found a way to excuse himself from being present, but he chose to celebrate with us. My personal respect for him only increased as a result. If only we as Church might be blessed all the more with this kind of leadership.
Huy Vu's mother was a powerful presence. A widow for many years, a woman who has had more than enough challenges for any one lifetime, inspired also. It seemed to me that not only was she proud of her son, as well she should be, but also that she too sensed and reveled in the love that we presented and demonstrated for him. If she had any doubts about what has come to pass and what still lies ahead, I believe that she has been strengthened by what she experienced. I was told that Huy praised and thanked her at his first Mass that followed his ordination, celebrated at St. Gerard Church in Brooklyn Park.
In the midst of his extended Vietnamese community, he was able to share with her the depth of his love and his gratitude.
And finally, I have to share something about Cardinal Tobin.  We have known each other since 1966 when we entered St. Joe's in Edgerton as freshmen. As classmates we share a
special bond, but at the same time we are not easily impressed by the other. This day I was impressed. I learned what it means to be an "Eminence." He carries the title and the responsibility well. His sermon was masterful, carefully weaving the theology of baptism, the dignity of the royal priesthood that all of God's people share, the sacraments of matrimony and holy orders, and the invitation to "stay in love." There was none of the overly pious and triumphant clerical theology that unfortunately seems to be common today. There was only a pastoral concern and a deeply held conviction that he easily expressed. It was easy on the ears and needed by the heart, and I was inspired and grateful to hear the Word of God proclaimed.
I could go on, but these words seem to be enough. These are some of my observations on this special day that I considered important enough to share. Somehow, it would seem
incomplete if I did not.
by Tom Santa, C.Ss.R.
(denverlink UPDATE)