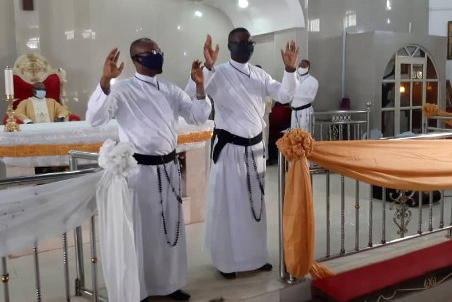 (Benin City, Nigeria) Two Nigerian confreres, Brothers Sabinus Obinna Onuegbu, CSsR, and Lawrence Udochukwu Ekenze, CSsR both made their perpetual profession on Saturday 3rd, October 2020. It was a truly joyous day for the Vice-Province, the families of the confreres, and all those who came to share the joy with us. Speaking on behalf of the Vice Provincial Superior, Rev. Fr. Joterio Aghoja, CSsR who presided over the ceremony and received the vows of the confreres, Fr. Jude Anyaegbu, CSsR eloquently expressed the gratitude and joyfully welcomed all for the celebration. The Bishop of the Archdiocese of Benin, Archbishop Augustine Obiora Akubeze was represented by the Chancellor Rev. Fr. Michael Oyanuafor, (himself as an oblate of the Redemptorists). A few Religious and priests were also present at the ceremony. In his beautiful homily, Fr. Charles Uloko, CSsR, Director of the Redemptorist Centre for Spirituality, Liguori house, took time to educate the people about the meaning of the commitment that our two confreres were making and urged everyone to pray for them to be faithful to their vows.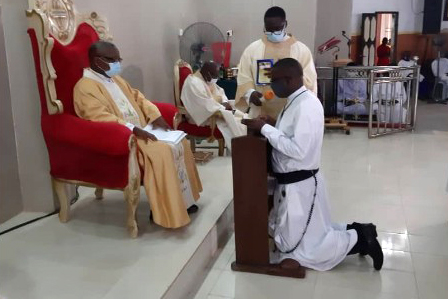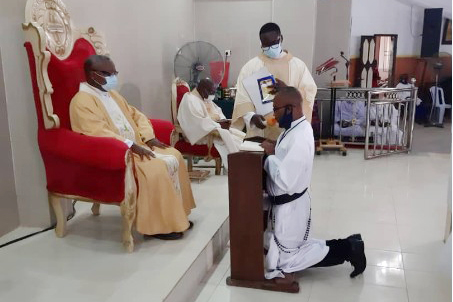 It was the first time the parishioners of St. Fidelis Catholic Church, Aduwawa, Benin City hosted such an event. Fr. Bem Gede, CSsR, the parish priest and superior of the community together with the two confreres working there; Frs. Ifeanyi Okoli, CSsR and Remigius Okere, CSsR had prepared the people for this joyous and unprecedented day in their lives as a parish community. Traditionally, both temporary and Perpetual vows celebrations were held at the Liguori house community chapel in Ibadan. However, in a bid to foster better knowledge of our way of life amongst the people we serve. The final vows ceremonies have been celebrated in Redemptorist run parishes since 2018. The excitement and joy of the parishioners of St. Fidelis were evident in the elaborate preparations both in the liturgy and the celebrations after the mass. it was evident that they could have done more if COVID-19 restrictions not been so keenly observed.
Once again, we Congratulate our confreres and we pray for the graces of joyous service in the Congregation and of final perseverance. Amen.
Fr. Godwin Abbah, CSsR
Communications Director