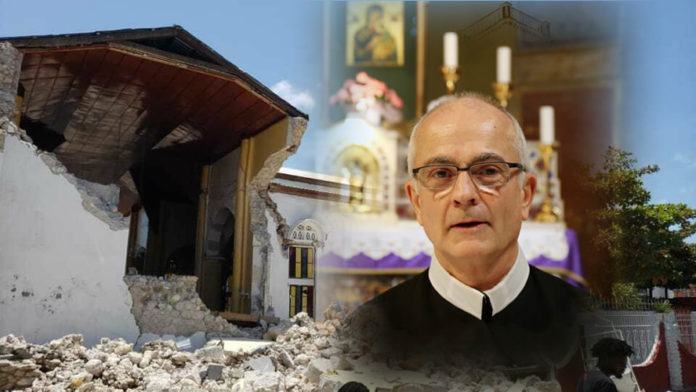 August 19, 2021
WITNESSES OF THE REDEEMER:
In Solidarity for Mission in a Wounded World
Dear Confreres, Sisters, and Partners in Mission,
On August 14, 2021, at 8:30 am local time, a violent earthquake of magnitude 7.2 shook the southern region of Haiti. Although the tremor was felt throughout the country, significant damage and loss of life is reported especially in Jérémie and Les Cayes. Provisional reports state that more than 2,100 people have lost their lives. Thousands more are injured and missing. And many more families are now homeless. The situation is quite desperate for many in the south of the country.
Our Confreres in the south of the country are all safe, but our houses in Jérémie, Fonfrede and Chateau have been seriously damaged. They are trying to assist the people who are more seriously affected and have lost everything. In particular, they are looking for tents and hygiene kits, as well as food.
Days after the earthquake, the tropical storm Grace worsened the situation for many families in the south. All of this at a time when Haiti is experiencing an unprecedented socio-political, humanitarian, economic and security crisis with the assassination of the president and general instability.
The Confreres in Haiti ask us to pray for them and for the people. This communion of compassion and prayer is a very important and essential strength and sign of solidarity. I urge every Redemptorist Community to include the suffering people of Haiti in their community prayer at this time.
Solidarity also moves us to concrete action. As a Congregation, I urge us to respond on two levels: to respond to the immediate and urgent needs of the Haitian people through financial support and donations; and to plan how we can support the Region of Port-au-Prince in the next months and years as they rebuild the damaged houses and works, and as they help their people.
On the first level, I invite you to consider contributing to the fund-raising efforts in support of Haiti in your own country, and to encourage your people to do the same. If you are unsure how to contribute so that it goes to people of Haiti, Caritas International (caritas.org) has already begun emergency relief and welcomes donations. Some Provinces have ONG's which may already have contacts and infrastructure in Haiti. Some countries have also begun fundraising campaigns for emergency relief.
On the second level, which is more medium and long term, the General Government will study how we can put a plan in place to assist them on an ongoing basis. Further information will be sent to the Congregation in the future.
The situation in Haiti is urgent. They ask for the support of our prayers, and our compassionate concern. As well, we can offer concrete financial support to respond to the most urgent immediate needs.
May our Mother of Perpetual Help, the patron of the Haitian people, accompany and console them! May God bless and protect especially the most vulnerable in this wounded world!
Your brother in Christ our Redeemer,
Michael Brehl, C.Ss.R.