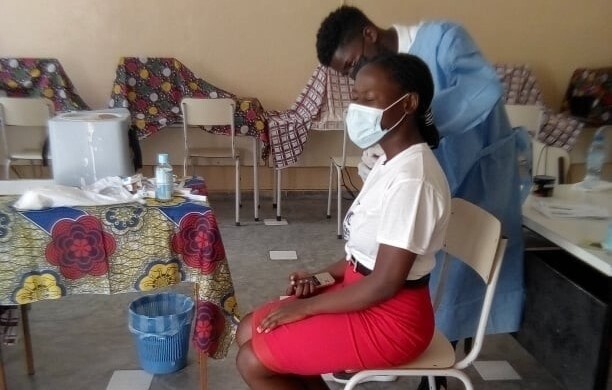 The COVID-19 vaccine is the main tool we have to stop the pandemic worldwide. Unfortunately, there is a big difference in the vaccination rate between poor and developed countries, so we are pleased to announce that the women of our project in Angola have already received the first dose of the immunisation.
On 10 September, our Renacer Social Centre, in collaboration with the Rotary Club and the Health Secretariat of the municipality of Lobito, administered the first dose of the vaccine to 34 women whom we accompany in this space.
In our centre, we reinforce and promote society's awareness of the global reality of the pandemic we are facing. We work above all on raising awareness among the women we accompany daily in our activities, as well as their families, through talks, conversations, and now with the application of the first dose of the vaccine.
We continue to maintain all the necessary safety protocols in this time of the pandemic, according to the Angolan Ministry of Health guidelines, to continue in the daily care of the women we work with. We are grateful for the reception of the first dose for the women, and we continue our journey of care for ourselves and our fellow men and women.
According to data provided by the Center for Systems Science and Engineering (CSSE) at Johns Hopkins University, we know that 920,570 people in the country have received the full guideline to date.
Project in Angola
The Renascer Social Centre is committed to solidarity with women and adolescents in situations of exclusion and vulnerability, affected by the phenomenon of prostitution, or at risk.
Facilitating the promotion and social and family reintegration, offering shelter and opportunities to women and adolescents affected by the phenomenon of prostitution and their families in a situation of high social risk in the city of Lobito (Benguela).
(hermanasoblatas.org)