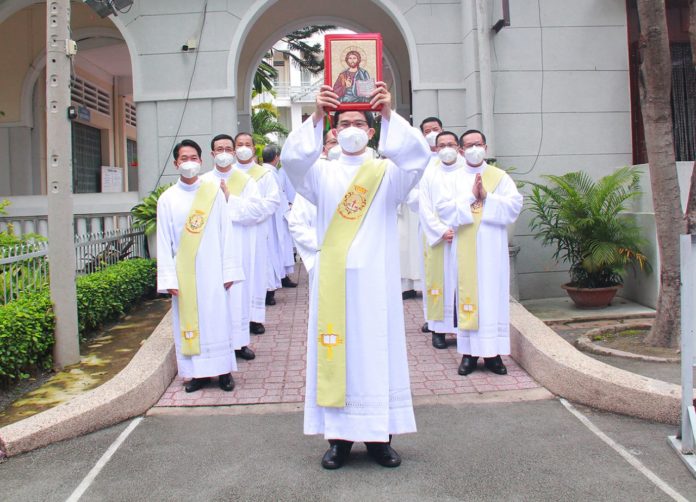 (Saigon, Vietnam) On the feast of St. Gerard, October 16, 2021, at 8:30 am, Bishop Joseph Dinh Duc Dao, bishop emeritus of the Diocese of Xuan Loc, ordained for 8 Redemptorist students to the diaconate and 8 Redemptorist deacons to the priesthood. Due to Covid-19 restrictions, only 30 Redemptorist priests in Saigon concelebrated with the Bishop, families and friends could not attend the celebration. 
Bishop Joseph Dinh Duc Dao, in his homily, said to the candidates that they were chosen to serve God and to serve His people. Bishop Joseph invited candidates to be in a closed relationship with God and take God as their inheritance. In this way, they can live the evangelical counsels and serve God's people, following the example of the Most Holy Redeemer.
According to the program of the Redemptorist Province of Vietnam, the ordained priests and deacons today should have been ordained at the beginning of July, but due to the pandemic outbreak, the ordination had to be postponed after three months.
With these 8 newly ordained priests, the Redemptorist in Vietnam now has 242 priests along with 9 deacons, 20 brothers, 37 perpetual professed students and 54 temporary professed students.
We pray for our newly ordained priests and deacons to commit their lives to the most abandoned poor according to the charism of our Founder. May they walk in St. Gerard's footsteps with a burning love for God and a zeal for souls.
Fr. Dominic, C.Ss.R. / Duc Trung Vu, C.Ss.R.
Photos: Br Van Hoai Nguyen, C.Ss.R.