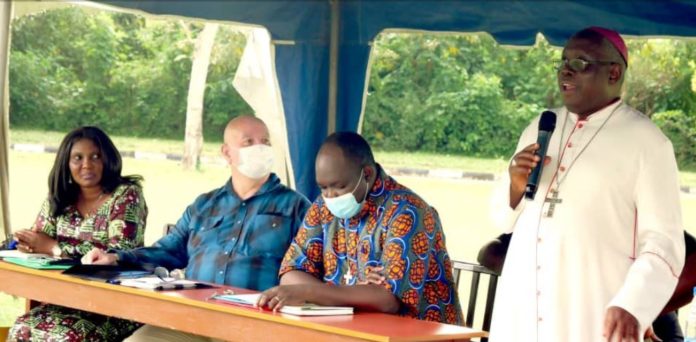 The Redemptorists of the Vice-Province of Nigeria met for their Assembly and Chapter October 25–29 at the Redemptorist Spirituality Center in Ibadan, Oyo State. Br. Daniel Hall was in attendance as the delegate of the Provincial Superior of the Denver Province. It was a week with a full agenda for the more than 112 members of the Vice-Province in attendance. Others in attendance included: Fr. Nicolas Ayouba, General Consultor from the Conference of Africa; Fr. Noel Sottima, Conference Coordinator of Africa and Madagascar; Fr. Christian Klu, Superior of the Mission of Ghana; and Lady Judith Agu, president of the Commission for Shared Mission with Laity in the Conference of Africa and Madagascar and Nigeria.
With COVID-19 protocols in place, Prayers, Masses, and all the meetings were held outside under large canopies outside of Redeemer House. Meals prepared by Nexus Hospitality were taken at the Liguori House Community. Our day began with Morning Prayer and Mass at 7:00 am, breakfast at 8:00 am and Roll Call at 9:00 am, followed by presentations and discussions until 1:30 pm when lunch was served. Afternoon sessions began at 4:00 pm and continued until 7:00 pm when confreres gathered for Evening Prayer. Dinner was served at 7:30 pm.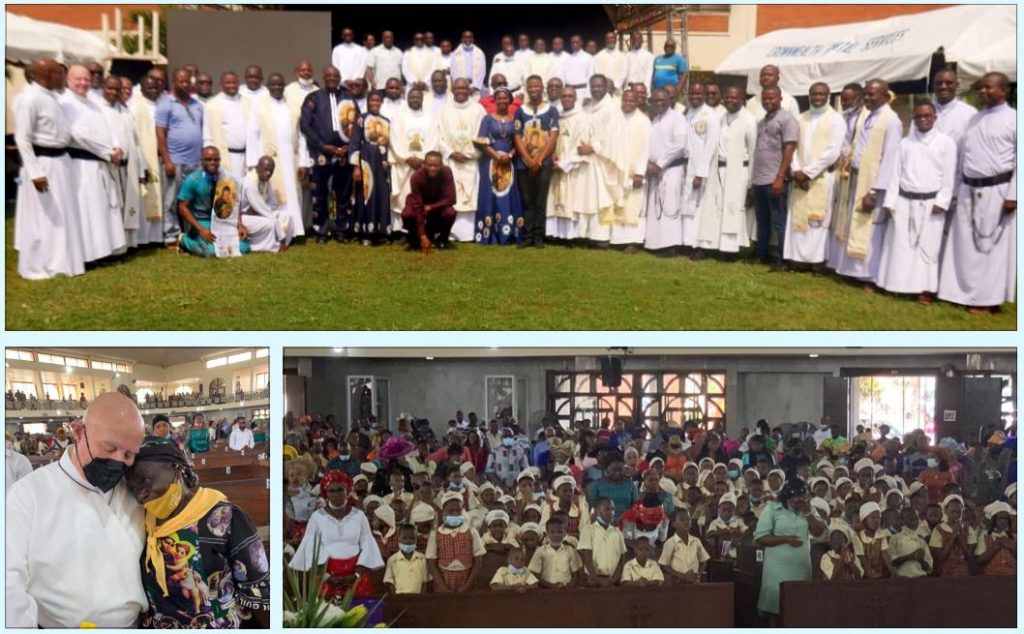 Archbishop Gabriel "Leke" Abegunrin of Ibadan joined us on Wednesday afternoon to hear some of the reports from the different apostolates and the work they are doing to fulfill our mission. The Chapter reviewed, discussed, and voted on statutes of the Vice-Province on Friday. After the Closing Mass, we had a festive barbecue of fish, chicken, goat meat, and other local delicacies to celebrate the good work accomplished this past week. Later that evening, Archbishop Augustine Akubeze of the Archdiocese of Benin and president of the Catholic Bishops Conference of Nigeria, paid us a visit. He congratulated the Redemptorists for the good work being done throughout the country and prayed with us for the strength to continue into the future. This past Sunday, I was able to be present for the Masses at Sts. Michael, Raphael & Gabriel Parish in Satellite Town, Lagos where we started our work 34 years ago. I was given a triumphant welcome, as I was able to speak about the early days of the mission. I congratulated the people on how they have grown and built up the Church, and now have a school, hospital and other buildings of my dreams to serve the people of the area. It was wonderful to pray and share with the people.
Daniel Hall, C.Ss.R.
(Courtesy: denverlink UPDATE 11.05.21)