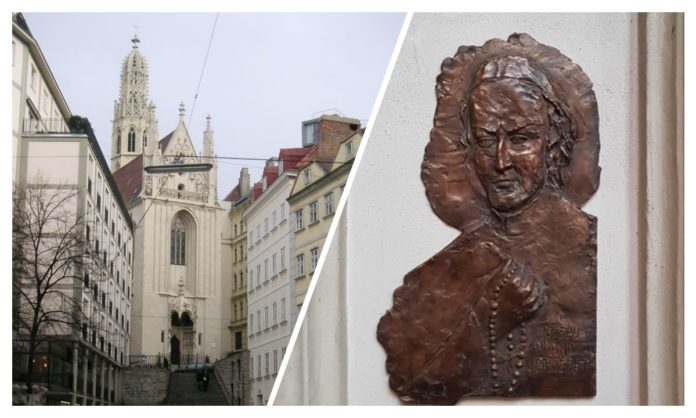 On the anniversary of the death of Father Joseph Passerat (1772-1858), on 30 October 2021, there was a Mass celebrated in Maria am Gestade in Vienna, where a new bronze relief was blessed.
Father  Passerat played an important role in the history of the Redemptorist Order. From 1820 to 1848 he was Vicar General of the Redemptorists outside Italy, the so-called "Transalpines". Clement Hofbauer himself had proposed him as his successor before his death (1820). In December 1820 Passerat and a handful of Redemptorists came to Maria am Gestade and started their work in Vienna on Christmas Eve. In 1901 a process of beatification was initiated for him, in 1980 Pope John Paul II declared him Venerable.
The corona pandemic prevented us from erecting a worthy memorial to Father Passerat for the 200th anniversary. The Austrian sculptor Leo Pfisterer created a bronze relief for us, which was unveiled the day of his death, October 30th.
Father Passerat was the superior of the larger and more dynamic part of the Redemptorist Congregation for almost three decades. He held the title of Vicar General and thus had extensive powers. In practice, the superior general, who resided in Naples or Rome, had little influence on the life and work of the members of the order north of the Alps – not only because of ignorance of the conditions in Central and Eastern Europe but also because of the political constellations in Europe. Thus the vicar general was the defining authority for Redemptorists in Europe and the United States.
Father Passerat was a contemplative man, also a man of action. What Clement Hofbauer was unable to do because of the intellectual and political circumstances, Passerat succeeded: to introduce the Redemptorist Order in many countries and to give it secure houses. 
Under the direction of Father Passerat, a total of 40 monasteries were founded: Falmouth in England; in Austria Eggenburg, Innsbruck, Leoben; in Belgium Bruges, St. Truiden, Liège; in Alsace Teterchen and Trois Epis; in Holland Wittem, the student house from which many Redemptorists went on missions; in Italy Finale, Modena, Montecchio; in the United States Baltimore, Buffalo, New Orleans, Philadelphia. – An impressive record!
In 1848 the Redemptorists were temporarily expelled from Austria during the course of the revolution. Father Passerat fled to Belgium. From there he asked the superior general in Rome if he could resign as vicar-general. He spent the last years of his life first in Bruges, then in Tournai, where he died on October 30, 1858. His bones now rest in the Redemptorist Church in Bischenberg, Alsace.
Fr. Hans Hütter, C.Ss.R.