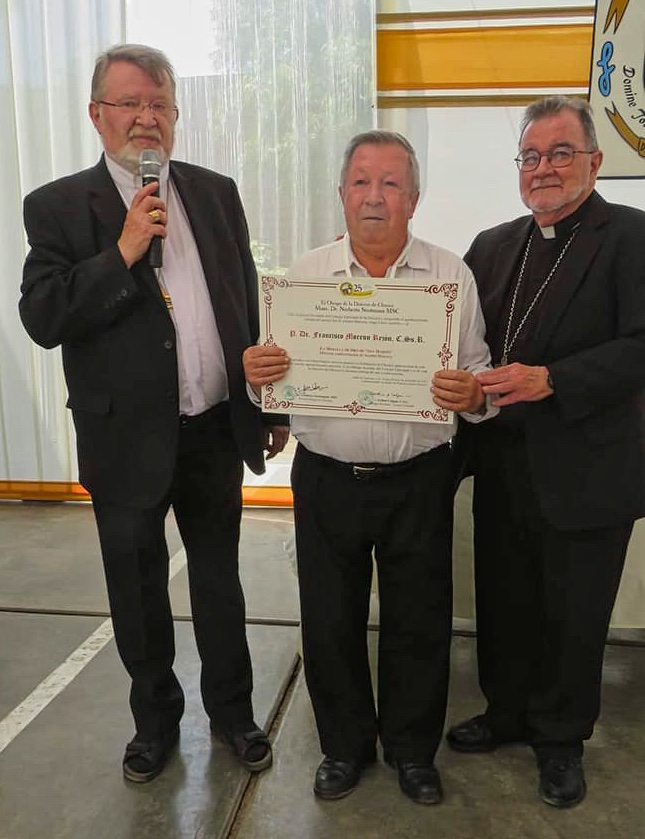 Within the framework of the 25th anniversary of the Diocese of Chosica, Monsignor Norberto Strotmann, Bishop of Chosica, and his Auxiliary Bishop, Monsignor Arturo Colgan, presented priests, nuns and lay people with the highest award of the Diocese of Chosica "Gold Medal of San Martin" with which the diocese, in the person of the bishops, thanks to them for their excellent pastoral service to our ecclesiastical jurisdiction. This decoration, which took place on 14 December, was awarded, among others, to the Redemptorist priest Fr. Francisco Moreno, C.Ss.R.
Fr. Francisco Moreno works in the community of Santa Anita in Peru. He has participated as a speaker at the "Latin American Redemptorist Meeting of Moral Theology", in 2018, in the "Vila Santo Afonso" (Pedrinha, Guaratinguetá, São Paulo, Brazil), with the theme "What are the challenges that Latin American society currently poses to theological-moral reflection?"
In 2019 he was one of the special guests at the Round Table at the ISCM in Madrid with the title: "The Alphonsian moral heritage and Pope Francis", where he participated as an alumnus of the ISCM and the Alphonsian Academy in Rome in his formative years and later, he was a teacher and missionary for many years in Peru. In Madrid, he presented a countenance of Pope Francis, considering the circumstances that outline his personality as bishop-cardinal and pontiff, and then ticking off a long list of "pastoral traits" of Alphonsian school.
Scala News