Along the Atlantic shore of San Alfonso Retreat House in West End, NJ, the Transition to Ministry and Apostolic Community met on November 15-19 for our second scheduled week-long session of the calendar year. There were 13 participants from the Extra-Patriam Vice Province, seven from the Baltimore Province, three from Denver – Fathers Chung Tran, John Son Tran and Huy Vu – and one from Canada. Two confreres from the Extra-Patriam Vice Province had good reason to be absent: one is studying in Canada and the other lives and ministers in the Czech Republic.
Monday was a travel day given the fact that most participants minister in parishes and then had to travel some distances. By Monday evening, everyone had arrived safely and enjoyed the chance to reunite over pizza.
Tuesday morning began with the welcoming of eight new participants: five men from the Extra-Patriam Vice Province and three men from the Baltimore Province. The morning was spent in three smaller groups checking in with one another. After lunch, Fr. Maurice Nutt of our New Orleans community presented on the topic "Racism in Ministry." Fr. Maurice is filled with a wealth of knowledge and experience and engaged us well. The afternoon ended with Eucharist. Following dinner, there was another hour session on the same topic. The rest of the evening was spent relaxing with each other and enjoying more food!
A key part of the program is to allow participants a chance to rest and reconnect. That was accomplished on Wednesday.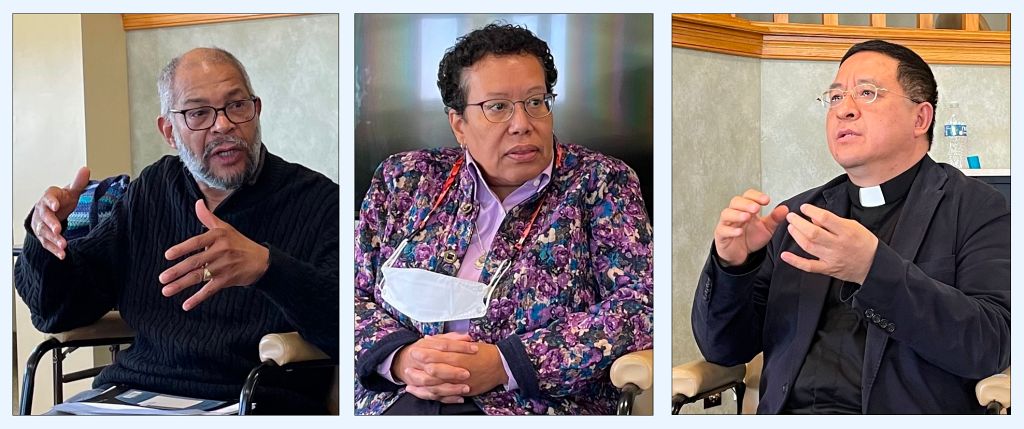 Thursday morning a panel of three – Fr. Kenny Gaddy (African-American) stationed in Baltimore, Sr. Ivette Diaz, RSM (Puerto Rican/Latina) living and ministering in New York, and Fr. Joseph Lu, a diocesan priest living in our Redemptorist community in Brooklyn who ministers to Chinese parishioners – shared their experiences of racism in community life. The discussion was followed by small group discussions before the group gathered back together for a plenary session that took us to lunch. All of the panelists allowed us to tread on the sacred ground of their private lives, which led to lively sharing in both the small and large group discussions.
Thursday afternoon we evaluated our time together first in groups and then in plenary session. Both presentations, as well as the presenters, were much appreciated, and the discussions found to be beneficial. Prior to dinner, we celebrated Eucharist. After our meal, we gathered for Eucharistic adoration before spend- ing the rest of the night in conversation and playing games, all the while sharing more food and drink. Throughout our time together, each participant spent individual time with their Unit director.
We concluded our time together on Friday with Mass and breakfast before everyone began the trek back to their assignments for weekend ministry. We thank our confreres at West End for their hospitality.
We will return to San Alfonso on May 16-20, 2022 for our next week-long session. Patrick Hayes, archivist for the Baltimore Province, will join us to share about the early years of the Redemptorists in North America. Our other scheduled presenter is Wendy Barnes, a Lay Missionary of the Most Holy Redeemer who works at Liguori Publications and is a longtime Partner in Mission (PIM). Among other things, she will address the formation of PIM Circles at the local level.
text & photos by Pete Schavitz, C.Ss.R. Co-Director
Courtesy of Denverlink, update of December 03, 2021.