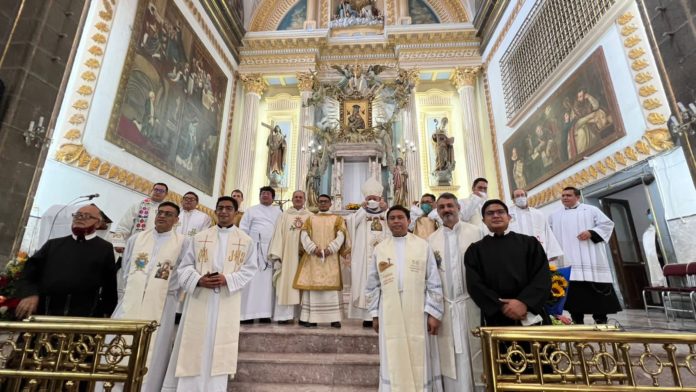 Redemptorists from the Province of Mexico have recently celebrated the profession of perpetual vows and diaconate of Lucerito Gutiérrez Rosas. He is originally from Tepexco, Puebla.
The church of the Holy Trinity, located in the historic centre of the city of Puebla, where we Redemptorists serve, was the designated place for these events. Redemptorist confreres from various communities in Mexico and abroad, those in the formation from the initial stages, religious sisters, family, friends and parishioners witnessed these events.
The perpetual vows of chastity, poverty and obedience, together with the oath of perseverance, were professed by Lucerito on Friday 18 February at seven o'clock in the evening. A dinner followed this in the dining room of the Redemptorist community.
The following day, at noon, the ordination of our confrere Lucerito to the diaconate took place. This Eucharist was presided over by Monsignor Víctor Sánchez Espinosa, Archbishop of Puebla. After the mass, a lunch was held in the garden of our house.
Many congratulations to our confrere Lucerito Gutiérrez Rosas. May God bless you in your diaconal service in the Redemptorist community of the Most Holy Redeemer in the city of Guadalajara, Jalisco.
Agustín Cantú Drauaillet, C.Ss.R.