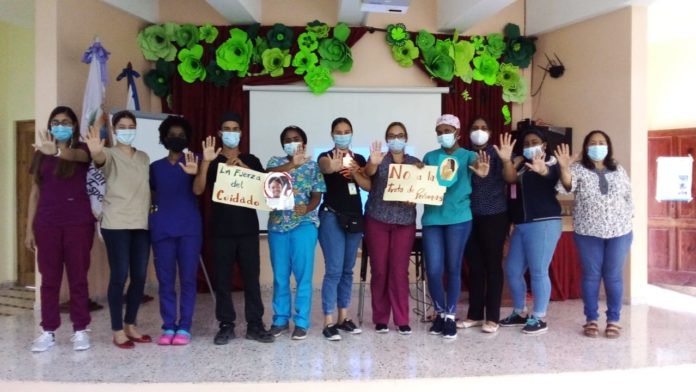 February 8 was the World Day of Prayer Against Trafficking. The Oblate Sisters of the Most Holy Redeemer are among the many groups committed to working on this challenging task within the Redemptorist family. Here is the testimony of a lifelong commitment and not just the celebration of one day a year?
"A few days ago, we celebrated the World Day of Prayer and Reflection against Trafficking, and the Oblate Sisters of the Most Holy Redeemer commemorated this day throughout our network in 15 countries.
As an excellent example of this, we receive echoes of this important day, liturgical memory of St. Josephine Bakhita, patroness of victims of trafficking: from the Dominican Republic, from the Province of José María Benito Serra, they tell us how they celebrated it in the Foundation Centro Nuestra Esperanza, and from Seville, they sent us some images of the joint prayer in the Al alba project, to highlight a few.
On the occasion of the worldwide prayer and reflection for the victims of trafficking and human trafficking, on February 8, many students, teachers and lay people, collaborating with the project, gathered at the Centro Nuestra Esperanza in the Dominican Republic (Santo Domingo).
Following the prayer guide that Talitha Kum sent as a guideline to pray for the victims of human trafficking, they prayed the prayer of St. Bakhita together, in which each of them participated.
Angelica Segoviana, an Oblate Sister who coordinated this celebration, describes: "It was a very beautiful and profound meeting to do a reading of all that they are doing around us, especially because some of them have been witnesses of so much violence and slavery that exists here in the Dominican Republic, especially with the women-children, adolescents and also in their families, some of them because they are Haitian and know the reality of migration, of sale, of trafficking that Haitian families live here in the Dominican Republic".
Prayer with medical students
The Oblate Sisters living in the Dominican Republic also met at the Centre with a group of university students studying medicine. Together with one of the collaborators, Dr Viviana, they prayed together and joined in the day of reflection against human trafficking.
The community of Oblate Sisters, in communion with the communities of religious life in the country, joined in the virtual prayer that was organised. "We continue on this journey, this process of announcing the good news and of reporting this serious crime in this reality of the Dominican Republic.
Al alba Project
On the other hand, in the Al alba Project, Oblates Seville held a Day of Formation and Reflection on the life of St. Josephine Bakhita, venerated as an African saint and a reference in the fight against human trafficking because of the history of exploitation she lived through.
(hermanasoblatas.org)