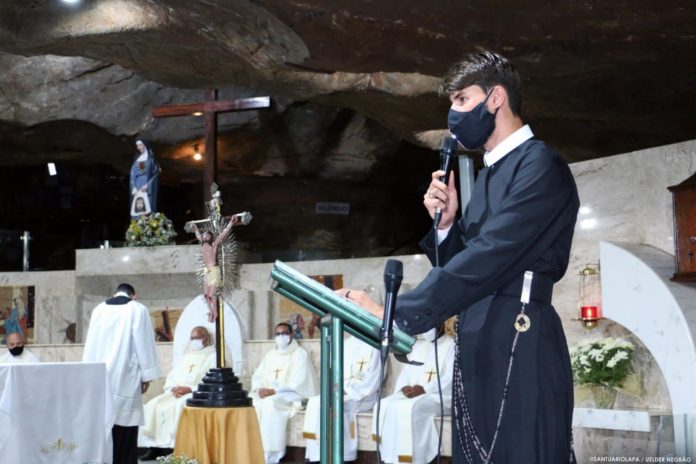 January 22, 2022, at the Shrine of Bom Jesus da Lapa, Bahia, Brazil, the novice Lucas Alves Silva made his first profession in the Congregation of the Most Holy Redeemer. Fr. Roque Silva CSsR, Vice-provincial, who presided at the celebration, received the vows from the candidate.
At the mass participated the Redemptorist confreres of the communities of Bom Jesus da Lapa, Fr. Cleandro de Oliveira Pessoa CSsR, the novice master of the newly professed, the postulants of the philosophy, family members, relatives, friends and guests, members of the local communities of Bom Jesus da Lapa, representatives of the Sisters of Charity (Vincentians) and the Sisters Daughters of Our Lady of Fatima.
Br. Lucas Alves Silva, born in 1995, comes from the city of Vitória da Conquista – BA, the southwestern region of Bahia. He underwent the accompaniment of the Redemptorist Vice-Province of Bahia in the years 2015 and 2016. Then he made the Aspirancy in 2017 in the Community Beato Gaspar, in Bom Jesus da Lapa-BA. From 2018 to 2020, he took the Course of Licentiate in Philosophy, studying at the Catholic University of Salvado, in Salvador/BA, living in the Postulancy Community São Geraldo, in the District of Pituaçu/Salvador-BA. In 2021 he had the experience of interprovincial novitiate in Campina Grande -PB. He will continue his missionary and Redemptorist formation, studying at the São Paulo Institute of Theology (ITESP) in São Paulo – SP.
As we thank God for the gift of this new confrere, we pray for his perseverance and for new vocations for the Redemptorist Congregation.
(based on: www.redentoristas.com.br; photos: Uelder Negrão/Santuario Lapa – courtesy of www.redentoristas.com.br)