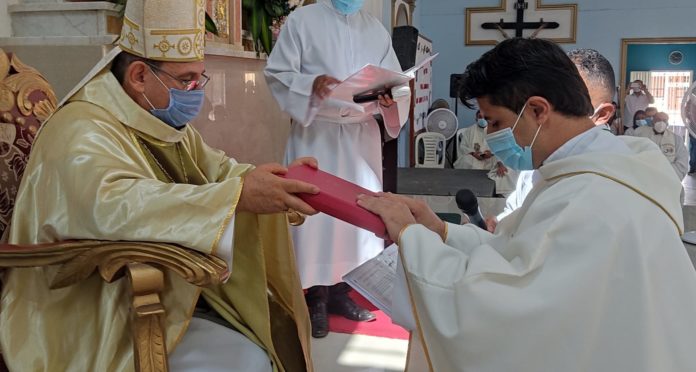 The Redemptorists have inaugurated a Mission in La Guajira, in the municipality of Uribia. The Bishop of Riohacha, Mons. Francisco Ceballos Escobar C.Ss.R., inaugurated on Sunday, January 30, the new parish priest of the Indigenous Capital of Colombia, Father Héctor Silva C.Ss.R. At the liturgy took part the Provincial of the Community of the Most Holy Redeemer, who "has sent two St. Alphonsus' spiritual sons in Guajira to undertake the mission of announcing Jesus Christ to a wounded people", as the Bishop said in his homily.
The Redemptorist Missionaries of Colombia share the joy of a new missionary station in the municipality of Uribia (Guajira). This pastoral initiative is the fruit of the efforts of Monsignor Francisco Antonio Ceballos Escobar, C.Ss.R., Bishop of Riohacha. Being aware of the people's social and spiritual needs, he asked the Redemptorists to support an evangelisation project in La Guajira.
The municipality of Uribia is located in the extreme north of South America. It is known as the "indigenous capital of Colombia". It covers an area of 8200 km² and has a population of 186,532 inhabitants, the majority of whom are Wayuu. The climate is arid and dry. Its economy is based on goat farming, commerce, tourism and mining. There is only one parish, Inmaculada Concepción, from where the Redemptorists will serve the mission area.
A mission station is the pastoral missionary action of a Redemptorist community, with medium-term itinerancy, in a poor place, not sufficiently served by the local Church and undertaken for a limited period. Fathers Héctor Silva (pastor) and Víctor Martínez (vicar) will minister in this mission station, with the support of junior Sergio Guerrero.
This missionary work began last Sunday, January 30. It was inaugurated at the Eucharist presided by Monsignor Ceballos, with the presence of Provincial Superior of the Redemptorists of Colombia, Father Luis Carlos Jaime Murillo, a group of Redemptorists, religious, diocesan priests, lay people and parishioners of the parish. At the liturgy, the parish was officially entrusted to the Redemptorist Missionaries.
We invite everyone to pray for this pastoral initiative: may the Lord of Miracles of Buga (Señor de los Milagros de Buga) bless the new mission and our Mother of Perpetual Help accompany all involved in it.
(redentoristasdecolombia.com)