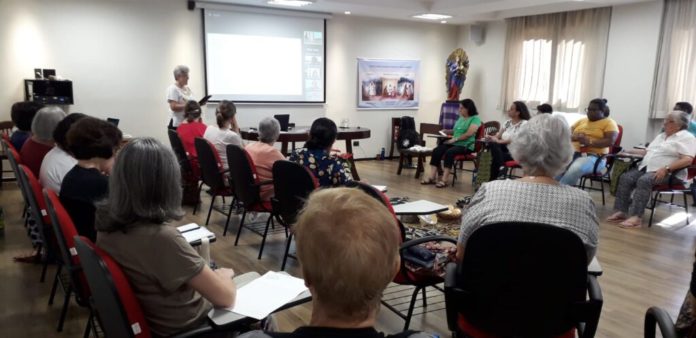 Province of Angola, Argentina, Brazil and Uruguay
On Thursday, March 24, the Oblate Sisters from Angola, Argentina, Brazil and Uruguay gathered to begin the IV Chapter of the Most Holy Redeemer Province.
With great joy, after the isolation caused by the pandemic, the sisters arrived at the "Mother Antonia" Meeting House in the city of São Paulo, Brazil, where this event of grace for the whole Province is taking place.
The meeting began with two days of retreat guided by Sister Daniela Canavina, a Franciscan of Mother Rubatto. She, with great ingenuity and closeness, has motivated reflection and prayer with the image of the bread that nourishes and is shared from the generous surrender of each day.
Afterwards, the official opening of the Chapter was celebrated with the Eucharist and the words of Lourdes Perramon, President of the Chapter.
This Chapter has the particularity that for the first time lay men and women of the Province will be participating in a virtual way, and one of them in person, as she is part of the Commission that prepared this assembly, bringing a new and wider perspective to seek together the new horizons to which we are called.
Until April 6, they will be gathered in an attitude of discernment, open to listening to the gentle breeze through which God manifests Himself through the breath of the Divine Ruah.
(sistersoblatas.org)