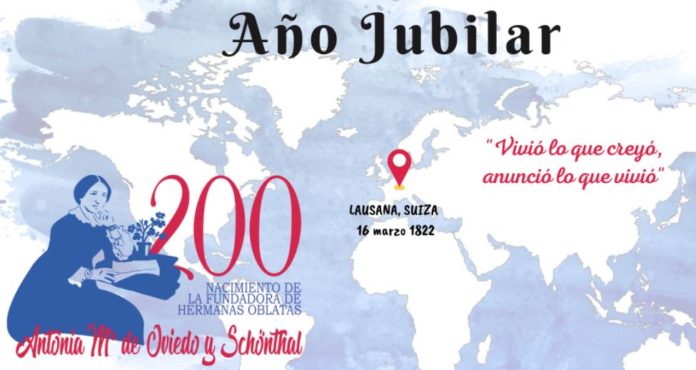 The Bicentenary of the birth of the foundress of the Oblate Sisters of the Most Holy Redeemer, Antonia M. de Oviedo y Schönthal, will take place from March 16 2022 to March 16 next year, coinciding with the day of her birthday.
The Congregation wants to give thanks to God for the life of Antonia M. de Oviedo, its foundress. The Oblates also wish to present her significance and the faith that nourished Antonia M. de Oviedo.
The Bicentenary celebrations will start with a virtual meeting on March 19, 2022, at 14:00 Spanish time.

Antonia M. de Oviedo is an inspiring figure for the whole Church. She was a sensitive woman of great culture and deep faith, recognised primarily for her values and virtues, which she developed throughout her life. Antonia placed them at the service of the education of the daughter of the Marquises of La Romana and the daughters of Mª Cristina de Borbón and the Duke of Riánsares. She employed them too, serving the women entangled in prostitution who wished to get out of this situation, offering them reception and care.
The Oblate Sisters want the Bicentenary celebration to focus not only on the moment of Antonia's birth – a gift of God for society and the Church – but also on the values that were formed in her life, what she learned, internalised and gave in all those years as governess and foundress.
At the same time, the Congregation wants to project externally its own charism, received by José María Benito Serra and Antonia María de Oviedo y Schönthal. It is an opportunity to unfold and proclaim the charism, to make the vocation known and to encourage others to live the Oblate mission, as Antonia Maria de la Misericordia did throughout her life.
With the motto "She lived what she believed, she proclaimed what she lived", the Congregation wants to give thanks for the Foundress' journey. She believed in women. That is why she committed herself to them; she believed in a concrete pedagogy, which she developed with love and which she proclaimed with her life.
The Oblate presence today, spread in fifteen countries, is a reference point for Christian commitment and solidarity with women in the context of prostitution and victims of trafficking for the purpose of sexual exploitation.
Antonia marked a path for the Oblate Family, which, following her example, aspires to recreate the mission in every reality where it is found. That is why this jubilee year fills the great Oblate community with joy, nourishes and strengthens it as a congregational body.
You can learn about the life of the founders and the Oblate mission today at www.hermanasoblatas.org. In addition to a 360-degree virtual tour of Antonia's perfectly preserved room in the Casa de Ciempozuelos, there is another space to pray or light a candle in the Foundress' virtual chapel.
The complete programme of the Bicentenary can be found on: www.hermanasoblatas.org