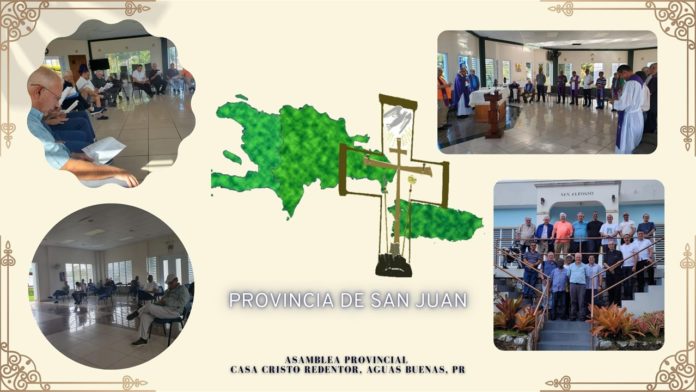 (Aguas Buenas, Puerto Rico) From 7 to 9 March 2022, the confreres of the Province of San Juan met at Casa Cristo Redentor to celebrate the provincial assembly animated by the provincial superior, Fr. Gerardo Hernández Carrasquillo, C.Ss.R. With a majority of confreres of the Unit, the provincial meeting was a part of the preparations for the General Chapter and a continuation of restructuring the Congregation.
As mentioned earlier, the process of unification of the units of Central America and the Caribbean as a new provincial unit is currently underway. I feel that this is one of the largest in the Congregation. The future Province is made up of Belize, Guatemala, El Salvador, Honduras, Nicaragua, Costa Rica, Panama, Cuba, Puerto Rico, Dominican Republic and Haiti.
As the current Province of San Juan (Puerto Rico, Dominican Republic and Haiti Region), we made our contributions to the General Chapter. We also discussed the future and new processes as a congregation and work Unit. Our vocations, new initiatives, among many other topics…
Today, as a provincial unit and being a courageous congregation and tempered to the times, we give ourselves to new changes, new missionary realities and evangelisation, but always being faithful to the charism of proclaiming the abundant redemption of Christ to the poorest and most abandoned of our people, from the different realities and in the face of new forms and technologies.
We ask all our lay people, associates, volunteers and collaborators in the different parish missions, educational missions, extraordinary missions, mission stations and others to continue praying together for the whole process of restructuring and general chapter so that together we may follow the Holy Spirit, who guides us together with our founder St. Alphonsus and all our saints, blessed and martyrs. May our Mother of Perpetual Help, a missionary par excellence, guard and protect us as missionaries and lead us to success.
(mredentoristas.com)