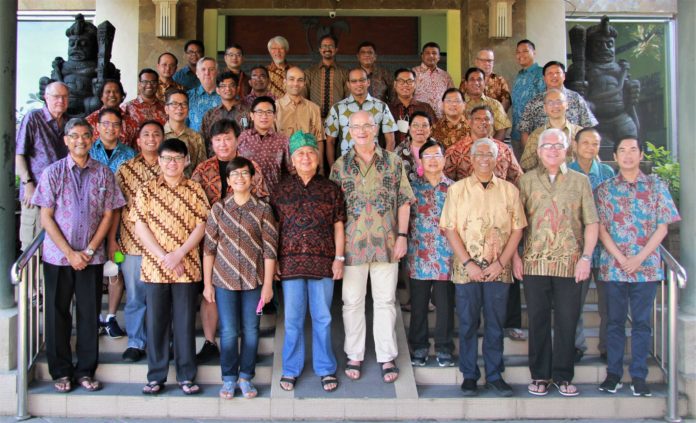 (Indonesia) The 1st Phase of the General Chapter in Bali in Indonesia of the Conference of Asia Oceania came to a close on the 7th June 2022. The First Phase reflected on the Conference Report and Strategic plan drawn up as a result of the reflection on the Working Document for the General Chapter. Both the Conference Report and Strategic Plan were discussed and modified and edited and finally unanimously voted on by the delegates. All other matters were also deliberated like the Postulata for the General Chapter and voted on.
The Report of the Conference stated that:  The Conference of Asia-Oceania consists of 13 Units, present in 16 countries. These are: The Provinces of Vietnam, Indonesia, Bangalore, Liguori, Oceania, Thailand, and Cebu; the Vice Provinces of Manila, Majella, Japan, and Malaysia & Singapore; the Regions of Colombo and Korea and the China Mission. Each country possesses its own richness in terms of the plurality of languages, cultures, religions, and spirituality, which adds much flavor to the apostolic life and mission of the Conference. 
The Report presented the Situation facing the Conference, the Challenges the Conference deals with, and at the same time the hopes of the Conference looking ahead. In Conclusion, the report stated: The Conference of Asia-Oceania is a large and vibrant conference of the Redemptorist Congregation. Within the Conference, there is the unity of vision that emphasizes relationships in solidarity.
Poverty, migration and refugee crises, the rise of populism, and secularization are just some of the issues facing our countries. The reimagination and revitalization of our Redemptorist identity can help us to respond to these situations more effectively and passionately, offering to a wounded world a message of God's redemption for all.
One of the hallmarks of this 1st Phase was listening to the sharing of the Confreres from Sri Lanka who had a lot of trouble coming to Bali. They shared about the situation in Sri Lanka and the entire body of delegates expressed their solidarity with the confreres and the people of Sri Lanka.
The 1st Phase ended with a message from Fr General and an expression from Fr Jovencio Ma thanking Fr Michael Brehl, C.Ss.R the Superior General for his presence at the Conference and noting that this would be the last time Fr General would be in the Conference as Superior General. The entire Conference of Delegates rose to give Fr Michael Brehl a couple of minutes standing ovation and sang the Vivat for him as a mark of gratitude and affection.
The Conference looks forward to now the Conference Assembly and then later the 2nd Phase (Canonical) of the General Chapter. The Province of Indonesia led by the Provincial Fr Joakim gifted every participant with a traditional batique shirt. Fr Joakim and the Province of Indonesia's warmth and hospitality have been extraordinary in hosting this 1st Phase of the General Chapter.
Joseph Ivel Mendanha, C.Ss.R.