A special Mass was held Saturday, June 11, 2022, at the Basilica of Our Lady of Perpetual Help in the Sunset Park section of Brooklyn, to mark the 50th Anniversary of the priesthood of four men who have been friends since high school.
Among those celebrating include Father Manuel Rodriguez Delgado, C.Ss.R., who is currently assigned to Rome as the Executive Secretary of the General Secretariate for Formation of the Congregation of the Most Holy Redeemer (Redemptorists) and has ministered in Puerto Rico, where he was born, and in the Dominican Republic. 
Fr. Rodríguez was ordained on June 20, 1971, along with Father Norman Bennett, C.Ss.R. However, due to COVID, their 50th-anniversary celebration was canceled last year. Father Jim Gilmour, C.Ss.R., and Father Francis Skelly, C.Ss.R. (unable to attend due to a family wedding) were ordained on June 18, 1972. All four priests are fluent in Spanish and English. Fr. Bennett also speaks Cantonese.
Fr. James Gilmour, C.Ss.R., is the pastor of the Basilica Parish and has worked in Paraguay for 20 years. He was also one of the directors of the Hispanic Ministry for the Metuchen Diocese, New Jersey. Fr. Francis Skelly, C.Ss.R., has worked with Hispanic communities in the United States throughout his priestly life. Fr. Norman Bennett, C.Ss.R., had worked in Puerto Rico and the Dominican Republic. He was also a missionary in Dominica, a monk in the Trappist Monastery in Berryville, Virginia, and is the founder of the Chinese pastoral of the Basilica.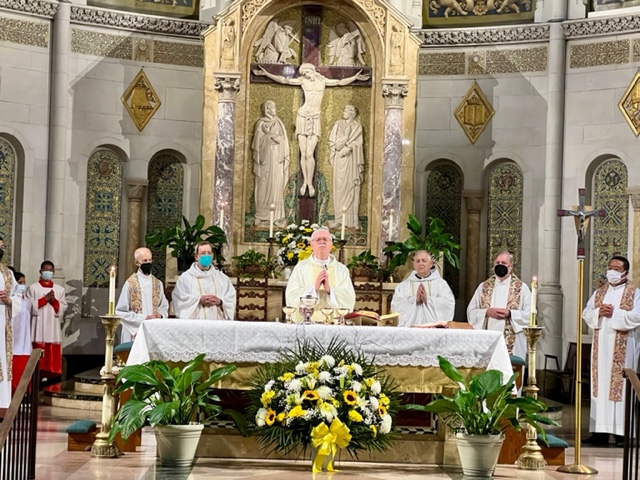 All four have been friends since their adolescent years and reflect on their experience of the significance of friendships from adolescence as they help define who we are today. "Our friendship is a reflection of the Evangelical friendships we read about in the Gospels and the lives of many of our Catholic saints".
The four priests participated together in the novitiate for the Redemptorists, the entrance and training for a religious order, in 1964, and completed their studies in the seminary. They have served the Church so far under the papacy of seven Popes, from Pope Pius XII to the present.
"I was delighted to celebrate my 50th Anniversary Jubilee of priestly ordination with Fathers James Gilmour, Francis Skelly, and Norman Bennett. The four of us have been friends since our adolescent days. When I finish my ministry in Rome at the end of this year, the four of us will be ministering together in the Redemptorist Parish Basilica of Our Lady of Perpetual Help, Brooklyn. After my family migrated from Puerto Rico to the States, I grew up and was raised in this and the neighboring Parish of St. Michael´s, Brooklyn. I am convinced that God, in His plan, has prepared me for the dynamic intercultural ministry of this Parish. I cannot have been more blessed by our Redeemer and celebrate this Jubilee with much thanksgiving and joy", said Father Manuel Rodriguez Delgado.
"I do want to say this for young people. Please notice how happy we are with our vocation. We felt the stirrings of our vocations when we were very young, and we are still happy and joyful in the vocation that we are living out even after half a century of the mission. Any young person who feels the stirrings of God calling them…follow that instinct.  That's what we did when we were 14 years of age," Father James Gilmour stated in his homily.
Communications Office of the Brooklyn Diocese, New York