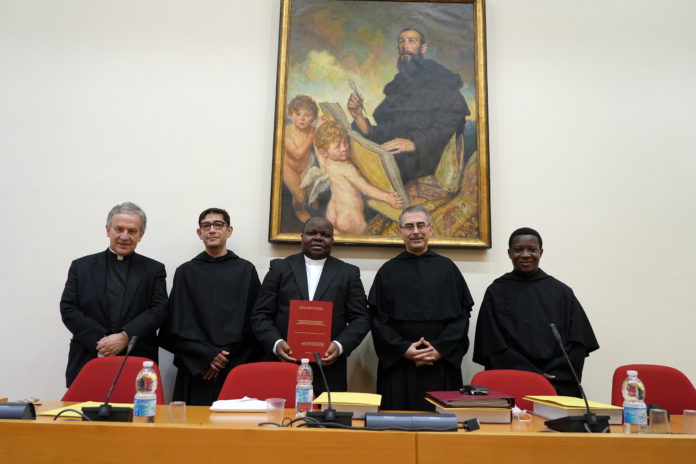 (Rome) On Friday, May 13, 2022, the day of the liturgical feast of Our Lady of Fatima and the commemoration of the assassination attempt on Pope St. John Paul II, Father Joseph Mukondua Zungulua, C.Ss.R, of the Vice-Province of Matadi in the Democratic Republic of Congo, presented and defended his doctoral dissertation in Theology and Patristic Sciences at the prestigious Institutum Patristicum Augustinianum before a committee composed of professors Msgr. Patrick Descourtieux, Pasquale Cormio, OSA, Juan Antonio Gaytán Luna, OSA, and Kolawole Chabi, OSA. This thesis is entitled (In French): Hilaire de Poitiers, docteur du bonheur. In Italian "Ilario di Poitiers, dottore della beatitudine. Research on the Christian ideal of beatitudes in the Tractatus super Psalmos."
After expounding the fruits of his research and answering the various questions of the committee members, Father Joseph was proclaimed Doctor of Theology and Patristic Sciences with the recommendation to publish the entire thesis. In the defense room, one could count the large presence of the Redemptorist brethren, especially Fr. Nicolas Ayuba, on behalf of the General Government; Fr. Alfonso Amarante, Dean of the Alphonsian Academy, and the professors of the said Academy, Fr. Andrzej Wodka, President of AVEPRO; Fathers Emilio Lage and Jean Beco; members of St. Alphonsus Major College; priests from the dioceses of Matadi and Kisantu residing in Rome; and religious and lay friends of the confrere.
At the end of the academic exercise, the new doctor thanked the authorities and professors of the Augustinianum; he expressed his gratitude to the professors: Monsignor Patrick Descourtieux and Juan Antonio Gaytán Luna, director and thesis advisor respectively, the members of the Commission and all those who helped him in his research. He also thanked the C.Ss.R. authorities and everyone present. He paid tribute to his elementary school teacher and his parents. Father dedicated his thesis to Father Zéphirin Luyila Ndongala, C.Ss.R, (+11/11/2020), his pastor who had sent him to the congregation and vice-provincial superior who sent him to Rome for his specialization in Theology and Patristic Sciences.
Everything ended, as at the beginning, with a prayer in Latin said by him. At 8 p.m., the community hosted a festive dinner to congratulate the confrere.
Scala News
Doctoral defense of Father Joseph Mukondua Zungulua, C.Ss.R,