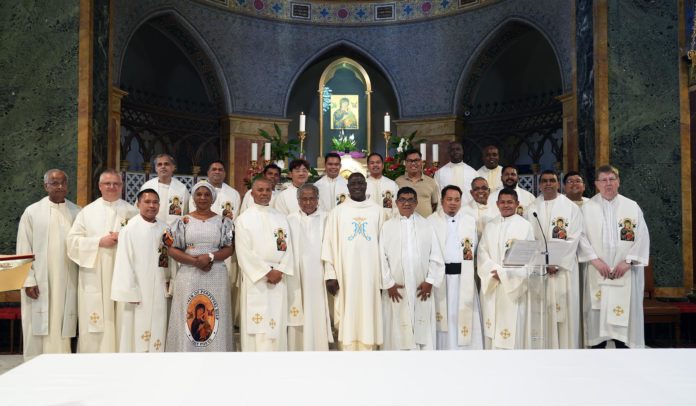 After three years of Covid restrictions, the Redemptorist Spirituality Course for the English-speaking confreres began in Rome on the 13th of June 2022 as confreres and lay associates from ten units gathered at the Alphonsian Academy in Via Merulana, Rome. The Course ends on the 2nd of July according to the scheduled program.
The participants of the Spirituality Course, 2022 are, Joe Stephen, Alvinrex Arockiaraj (Malaysia), Bartolomeus Otu Kelen, Antonius Rato Zada (Indonesia), Roy Thomas, Tomy Antony (Liguori, India), Rajan Antony, Jomio Thomas, George Kindo (Bangalore, India), Cornel (Kenya), Theo Aperdannier (S. Clement), Leo Mar Arenillo, Lhionell Namora, Rico John Bilangel, Allan Manzano (Manila), Michael Kim (Korea), Anjelino Noventus Rowa, Yohanes Kristoforus Lengo (Japan, Indonesia), Agomuoh Hyacinth, Anoghala Kingsley(Nigeria), Judith Agu ( lay-associate from Nigeria), George Puthenpura (Bangalore), Piotr Chyla (Rome).
On the 13th morning, all the participants gathered at the common hall of St Alphonsus Academy for an introductory session. Fr. Piotr Chyla, the Director of the Spirituality Course welcomed and introduced all about the schedule of the whole program of the Course which lasts for about three weeks. He began the session with the general introduction to the course on Redemptorist Spirituality. Fr. Piotr highlighted the aims and method of the course.
After an hour of the session, the confreres gathered for a Eucharistic celebration at the Church of St Alphonsus. Fr. Nicolas Ayouba, the general consultor, presided over the Holy Mass. He reflected on the miraculous icon of the Blessed Virgin Mary, the Mother of the Church. At the end of the Mass Fr. Nicolas shared about the origin of the House at Via Merulana 31 and the establishment of the Shrine of the Mother of Perpetual Help. He emphasized the need to spread the devotion of the Mother of Perpetual Help bringing God's blessings to the families and communities.
During the course, the confreres and associates will spend the first four days in Rome reflecting on the history and mission of the Congregation, based on the Constitution and Alphonsian Missionary Theology. They leave for Scifelli on the fifth day morning and visit Tivoli and Quintilliolo. On the seventh day Fr. Piotr will give a session on the Spirituality and Spiritual Life. The participants will then depart for St. Agatha of Goti and visit the Redemptoristine Sisters and Materdomini at the noon. After two days of sessions on the Bible and Alphonsian Spirituality by Fr. George the confreres will visit Naples where they will be instructed about the history of the place in the life and mission of the Congregation. Then they will travel to Muro Lucano and Deliceto, near Materdomini.
We wish all the participants God's abundant blessings and the protection of the Mother of Perpetual Help as they continue to visit and walk in the footsteps of St. Alphonsus during this Spirituality Course.
Scala News