It's a cloudy morning on North Grand Blvd. in St. Louis, U.S.A., but inside St. Alphonsus "Rock" Church the shrine of Our Mother of Perpetual Help glows with light. Framed by exquisite stained-glass windows crafted in 1904, the historic Icon of Our Mother of Perpetual Help looks down on her children as they bring to her their sorrows, joys and needs.
St. Alphonsus "Rock" Church celebrated the centennial anniversary of weekly devotions to Our Mother of Perpetual Help – a century of her children praying for her intercession – with a triduum and feast day Mass last week. The weekly devotions drew almost 18,000 people every week to the 11 services offered in 1922 – such large crowds that the local transit authority added additional bus and streetcar routes to accommodate the influx in traffic every Tuesday.
Attendance has fallen over the decades, with now only about 20 people faithfully participating. "The fervor and the passion for Our Mother of Perpetual Help is not what it used to be," said Fr. Steve Benden, pastor. "I'm trying to get more people interested in participating in the novena tradition."
Noted iconologist Br. Dan Korn shared his insights about the symbols contained within the icon during the evening triduum, and participants received blessings from the Redemptorists. Online visitors throughout the United States participated in the celebration, as well as the faithful in other countries: Brazil, Italy, India, Bangladesh, Denmark, Ireland, Spain, the Philippines, Austria and China.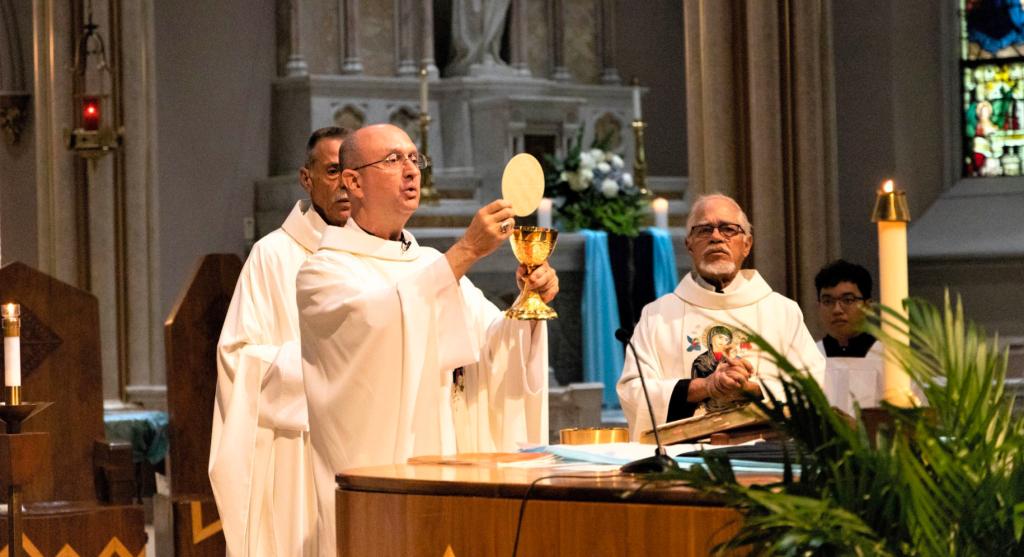 Bishop Bruce Lewandowski of Baltimore presides at the feast day Mass with concelebrants Fr. Pete Schavitz and Fr. Rodney Olive, assisted by altar server Andrew Tran-Chung.
Redemptorist Bishop Bruce Lewandowski of Baltimore celebrated the Mass on Sunday with Malcolm Speed and the Voices of Praise choir leading the church in worship. The Liturgical Leaders in Motion led a "Call to Worship" and helped fill the sanctuary with the Spirit throughout the Mass.
Parishioner Deborah Grant called Sunday's celebration dynamic, and said that Bishop Bruce's message on Our Mother of Perpetual Help was uplifting and inspiring.
She also noted that Ronda Branch's solo performance to "Ave Maria" was "breathtakingly beautiful." Denise and Ben Phillips added that Ronda and the Liturgical Leaders in Motion were "always on cue and performed brilliantly."
Richard Buckley, a Redemptorist Associate, appreciated the homily. "Bishop Lewandowski gave a profound, uplifting, and beautiful personal testament to the true power of Our Mother of Perpetual Help. He made us think about how many times we have turned to her, and the countless petitions that she interceded on for everyone who has turned to her. His message was a blessing to everyone who heard it," he said.
Our Mother of Perpetual Help continues to intercede for her children, and Fr. Steve hopes that the enthusiasm evident at the recent celebration inspires the faithful in St. Louis and elsewhere throughout the world to once again participate in the powerful novena to Our Mother of Perpetual Help.
Text & photos by Andrew Tran-Chung
Courtesy of Denverlink, update of July 01, 2022.