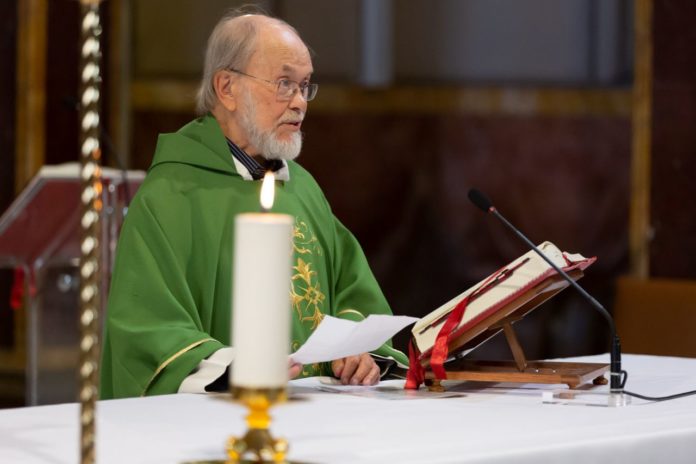 (Rome, Italy) Last Sunday, August 28, Fr. José Moreira Pinto de Sousa, C.Ss.R., celebrated the 75th anniversary of his religious profession in the Shrine of the Mother of Perpetual Help in Rome. He presided over the solemn mass, concelebrated with several confreres – members of the local redemptorist community. 
– I want to thank God for the gift of religious life to his Church, a religious life that I professed 75 years ago, 61 of which I lived here, at the Esquiline Hill in Rome – in this way, Fr. Jose introduced the participants into the celebration. In his homily, he said that being a Christian means living against the tide. A good example is the Sunday Gospel, which speaks about humility. Whereas the logic of the world is built on pride, on the race for first places, the reasoning proposed by Christ is founded on humility before God and respect for one's neighbours – this is the way of life of the Christian. Such message Fr. Sousa left for the gathered, encouraging them to live their baptismal vocation. 
At the end of the Mass, Fr Gianni Congiu, C.Ss.R., superior of the St Alphonsus community, underlined that such a great jubilee is an occasion to thank for all the good that Fr. Jose accomplished during his religious life. At the same time, it is also an invitation to pray for new vocations.
José Moreira Pinto de Sousa, C.Ss.R., member of the Province of Lisbon, was born in 1930, professed 24.08.1947, and ordained 02.02.1953. He came to Rome in 1961 and started work as a secretary for Fr. William Gaudreau, Superior General. During his stay in Rome, Fr. Sousa held various offices and functions: consultor and treasurer of Sant'Alfonso community, director of "Collegio Maggiore" (part of the community composed of Redemptorists who studied at Alphonsian Academy and other Roman universities), and Procurator General of the Congregation of the Most Holy Redeemer. For many years he worked in the Portuguese section of Vatican Radio. He was involved in pastoral ministry at the Shrine of Our Mother of Perpetual Help in Rome. He is remembered mainly as a celebrant and preacher at Saturday evening mass for over a decade. After his retirement, he stayed in Rome.